Protest ads over pig and alcohol research at Brown University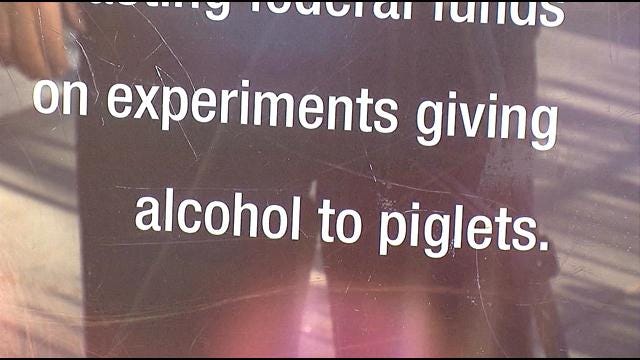 by ABC6 Chief Political Reporter Mark Curtis
Bus passengers in Providence are getting a real eye full these days.
Ads in shelters are protesting animal research at Brown University, where piglets are fed large amounts of alcohol.
Even some doctors are objecting.
"We are against, the really useless, basically torture of animals to find results that we are not sure what their results – what kind of relevance they will have – for health care," said Dr. Al Puerini of Providence, who belongs to the Physicians Committee for Responsible Medicine.
The experiments on pigs could help assess if there are similar effects on humans.
ABC6 Chief Political Reporter Mark Curtis said, "Critics say the amount of alcohol given to the pigs would be the equivalent of a human drinking 20 shots in 24 hours."
But some bus passengers disagree with the ads, including a nurse who says animal research can help human medicine.
"I see, I meet patients who have cancer and are suffering, especially the little kids… If we can help improve the quality of our health, go for it I say," Rebecca Tarawali, a nurse who supports animal research.
But some doctors say computers can replicate and replace a lot of animal research.
"There are no tremendous computer simulators where you can dissect a frog for example, on a computer," said Dr. Puerini.
Some of the bus shelter protest ads are near Brown University Medical School and Rhode Island Hospital where research is done.