Protesters clash with police in Boston after George Floyd protest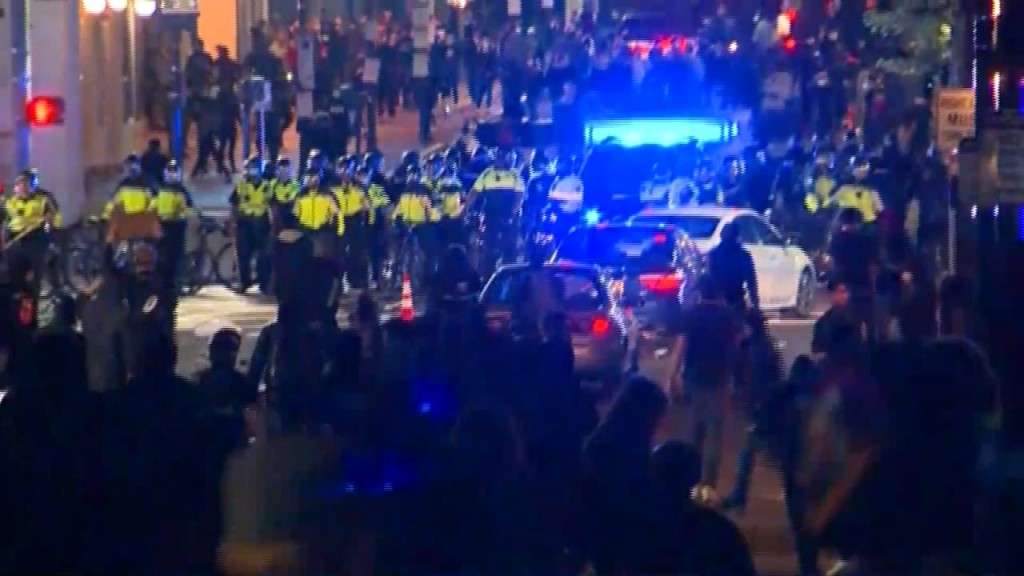 BOSTON, Mass. (WCVB):  Protesters clashed with police officers at multiple locations in downtown Boston Sunday night, following the groundswell of protests and violence that has swept through other American cities since the death of George Floyd in Minneapolis on Memorial Day.
Boston Police were seen using pepper spray and hitting a man with a baton in Downtown Crossing just after 9 p.m., after officers were pelted with water bottles and other objects.
Multiple demonstrations gathered in Boston peacefully throughout the day, but the atmosphere changed dramatically after sunset when a crowd of thousands began to disperse from the State House.
When some of the group moved through Downtown Crossing, they were seen throwing water bottles and other objects at Boston Police. At first, the area was occupied by bicycle officers but they backed away as the confrontation peaked.
A few moments later, officers in helmets and carrying batons were seen in physical altercations with some of the protesters.
Rocks and bricks were also thrown at police along Tremont Street, officers said.
To people in that area, police wrote at 9:40 p.m., "Peaceful protesters along Tremont Street are asked to vacate the area. If you are a peaceful protester, the time to vacate and go home is now."
Protesters were also seen smashing a police vehicle near the Beantown Pub on Tremont Street, opening the doors and hammering the windows.
Another crowd smashed the windows of Skylight Jewelers on School Street, across from Boston's Old City Hall. They were seen climbing into the shop and smashing at least one display case.
After 10 p.m., during a live report, an SUV went through the crowd and appeared to hit several people. Reporter Peter Eliopoulous said the vehicle had smashed windows.