Protesters clash with police in cities across the U.S.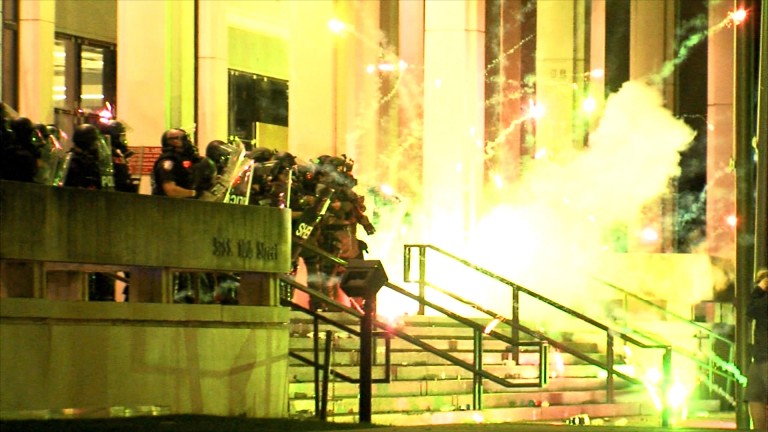 LINCOLN, Neb. (KLKN) — The normally quiet capital city of Lincoln, Nebraska was anything but Saturday night as police clashed with citizens protesting the death of George Floyd. Lincoln is one of dozens of cities across the country experiencing escalating protests and civil unrest over the past five nights. Curfews have been enacted in at least 25 cities, including Atlanta, Philadelphia, Los Angeles, and Minneapolis.  Several states have activated the National Guard: Minnesota, Georgia, Ohio, Colorado, Wisconsin, Kentucky, Utah, Texas, and the District of Columbia.
Aside from a few brief conflicts with traffic and graffiti, the protest in Lincoln remained largely peaceful until the group arrived at the Hall of Justice around 11:30 p.m.
Protesters gathered in front of a group of law enforcement officers equipped with riot gear who were standing guard outside the building. At one point, some of the protesters began throwing water bottles and other items at the officers who then launched tear gas canisters into the crowd which then temporarily dispersed. Dozens of fireworks were also launched by protesters into the group of officers.
This pattern continued for several hours until around 2 a.m., at which point the protest began transition into a riot. Several people began smashing out windows of nearby buildings and looting inside. While getting video of the vandalism, a KLKN-TV photographer was struck in the head by a member of the crowd.
Around 3 a.m. a fire engulfed one of the buildings between the Hall of Justice and the state capitol. Officers with riot shields could be seen pushing rioters away from the scene, which was eventually secured and the fire extinguished.
City leaders will hold a press briefing at 2:30 p.m. on Sunday to provide an update on the situation.
RELATED