Protests and counter protests over same-sex marriage in RI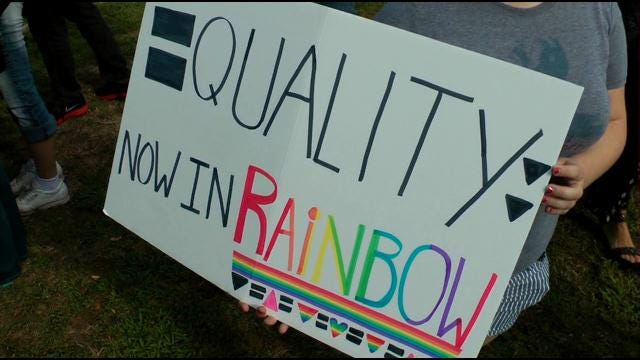 by ABC6 Chief Political Reporter Mark Curtis
A group of four protesters from the Westboro Baptist Church demonstrated briefly, outside of Cranston City Hall.
"My sign says same sex marriage dooms nations." Q: And you object to that, why? "I object to it because of the acceptance of homosexuality and same–sex marriage," said Rachel Hockenbarger of the Westboro Baptist Church.
But there was a counter protest by a much larger contingent of same–sex marriage backers.
"Well I think it is our Constitutional right. And if someone comes around spewing their hate, we have a right to counteract that hate with love," said Jonathan Pressman a same-sex marriage supporter.
"My message is, anyone can love who they want," said another gay marriage supporter.
The demonstration was over in about 30 minutes.
ABC6 Chief Political Reporter Mark Curtis said, "Cranston police were here in force, the debate was spirited, but there were no real problems."
Inside Cranston City Hall, it was a much different scene.
After dating for 21 years, Royce Kilbourn and Karl Staatz were getting their marriage license.
"It's really amazing. It's life changing for us to be able to finally get married after all this time and there's so many benefits to marriage," said Kilbourn.
And the couple wasn't upset about the protest going on outside.
"It was great to see the supporters out there, with all the support and the love. So we'll think about those and not the other team that's out there," said the soon-to-be-married Staatz.
Rhode Island was the 10th state to legalize same–sex marriage.