Prov. fight goes viral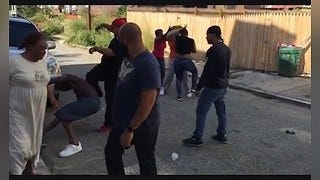 A brawl in Providence caught on camera has now gone viral. The clip, titled Ratchet couple tries too attack bikers with samurai sword and gets knocked out , has been seen nearly 100,000 times on YouTube.
The video shows two people confronting a group. It appears the fight is sparked over the group touching a car.
In much of the video one man is seen carrying a samurai sword. That man ends up knocked out on the ground about 2 minutes into the video.
"Nonsense pointless. The whole situation is pointless," said Ray Duggan.
Duggan is a former gang member and a current street worker for the Providence Institute of Non-Violence.
"It's a horrible message and this is how it grows on social media so much and it becomes the norm," said Duggan.
Duggan wants to see social media sites ban violent fights like this just like they would other profane material including nudity. He says one of the dangers is that people retaliate to prove themselves when fights are shared online.
"People can snap after that," said Duggan. "They feel that well, I'll prove to you guys and be like oh I'm not fake and then they'll kill somebody."
(C) WLNE 2015