Prov. Mayor to Retirees: Slash Your Benefits, Save Our City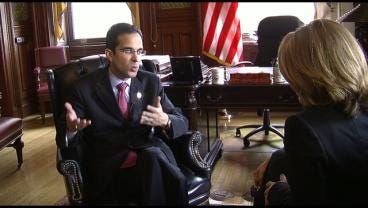 Just under 500 retirees turned out to a town hall meeting Saturday morning to hear Mayor Angel Taveras outline a plan that will immediately save the city $16 million and avoid bankruptcy.
Mayor Taveras calls it shared sacrifice. Retirees call it an unfair burden. No matter what you call it, the city of Providence will run out of money by June if some concessions are not made soon.
"It's not going to be an easy solution, and if it was an easy solution, don't you think someone else would have done it?" Mayor Taveras asked the crowd. "Don't you think Mayor Cianci or Mayor Cicilline would have done it?"
Mayor Taveras says if their pensions are not cut soon, Providence could file for bankruptcy and they could lose their pensions entirely.
"It is going to impact you. I cannot tell you the exact date, but I guarantee you that. I'm trying to fix this problem. I'm trying to do everything I can," Taveras told the crowd.
He's proposing three changes that would save the city nearly $29 million a year. First, retirees under 65 would move to a 20% health insurance co-share. Second, those over 65 would move to a Medicare plan. Finally, cost of living adjustments or COLAs would be frozen until the pension system is healthy.
"You want me, in 10 years, to live on the same pay I make today?" Phil Payne, a retired firefighter, asked the Mayor during the heated question and answer period. "Then you want co-shares and everything else. How do you stand there and ask that?"
"I want to make sure you're not living on less in ten years," Mayor Taveras responded. "Because if we don't do anything, that's what's going to happen."
As the hands continued to rise during the question and answer session, so did the frustration. There are still a lot of questions to be answered if Mayor Taveras is going to reach an agreement with the retirees by his deadline of May 1st.
"He couldn't possibly accomplish all of this in that timeline," Tom Walden, a retiree, noted.
However, Mayor Taveras says he does not have a choice.
"The timeline is dictated by the fact that we are going to run out of money by June. I'm not just doing it to do it quickly. it's that we have to do it quickly," Taveras said.
The next step is for the retirees to appoint a negotiating committee who will meet with city officials twice a week for the next few months in hopes of reaching an agreement by May 1st.