Providence awards nearly half a million dollars as part of citywide Homeless Initiative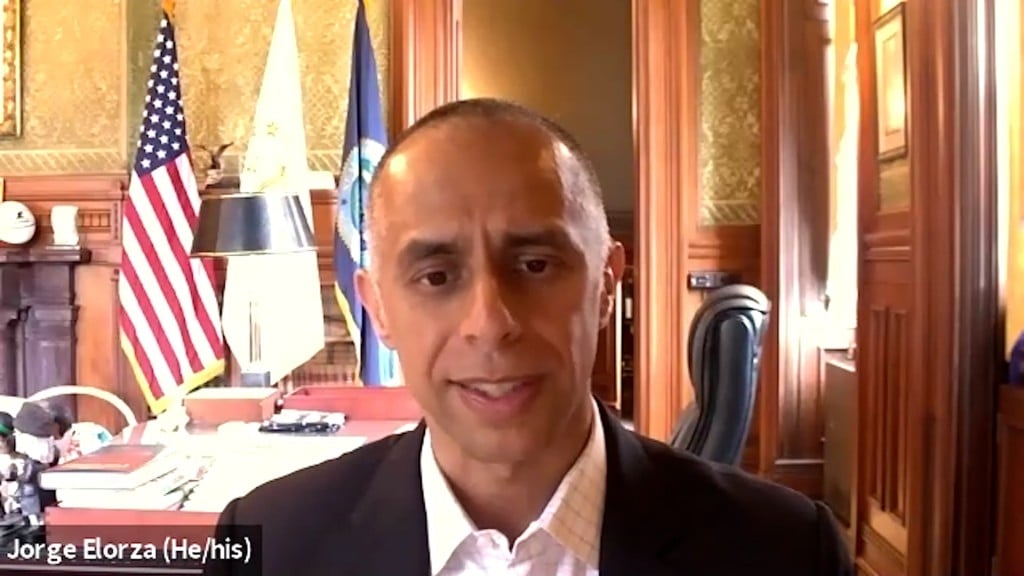 PROVIDENCE, R.I. (WLNE) –
Mayor Elorza, alongside several council members and legislators joined together to announce a plan to change homelessness and substance misuse for Providence's most vulnerable citizens.
Mayor Jorge O. Elorza, Providence City Council President John Igliozzi (Ward 7), Councilwoman Mary Kay Harris (Ward 11), Council Finance Chair Jo-Ann Ryan (Ward 5), Rhode Island Foundation President and CEO Neil D. Steinberg, Providence Foundation Executive Director Cliff Wood, Crossroads Rhode Island President and CEO Karen Santilli have announced a $495,000 award to Crossroads Rhode Island to support a new program for Providence residents experiencing homelessness. "This is about human lives, this is about human beings. This is about a time in life when people are really outside, in the cold, sleeping in very unsafe, very unhealthy conditions," says Councilwoman Harris. "All we're hearing is all this funding for affordable housing, homelessness, securing homes, securing shelter. It's now that we have to do it. It's now."
This program will assist individuals with a shelter or transitional housing in order to help them obtain permanent housing.
"Our city and state are facing a housing affordability crisis and a growing need for mental health and social service supports," said Mayor Jorge Elorza. "This investment is just the beginning of allocating our Providence Rescue Plan dollars to supporting the crucial work of partners like Crossroads Rhode Island, who are dedicated to serving our unsheltered neighbors. Additionally, I am thankful for partners like the Rhode Island Foundation, Downtown Improvement District and the Providence Foundation who are collaborating with us to address this critical need in our city."
The city of Providence utilized a portion of American Rescue Plan Act funding, which was finalized by council members and signed by Mayor Elorza.
"The City has emergency housing services dollars we need to put to use now," said Councilwoman Mary Kay Harris (Ward 11). "Winter is coming and people experiencing homelessness need critical services as soon as possible."
Crossroads Rhode Island has a track record of helping people find permanent housing through case management and other support systems. With this funding's support, Crossroads will be able to expand diversion and intervention for people and families experiencing homelessness in the United States.
"The City of Providence is to be commended for making housing for its most vulnerable residents a priority," said Karen Santilli, president and CEO of Crossroads. "This critical funding will allow us to provide homeless services directly to those who are sleeping outside. Armed with a laptop and hot spot, our Mobile Diversion case managers will go out into the community and connect people with the services they need to end their homelessness, such as housing problem-solving and one-time financial support."
The RI Foundation, Providence Foundation, and Downtown Improvement District also announced the creation of the Healthy and Safe Providence Fund. The Rhode Island Foundation plans to gift $100,000 if $200,000 in donations is added to the fund by December 31.
The Healthy and Safe Providence Fund aims to provide behavioral health, basic needs, and housing services, as well as supporting Downtown Improvement District's Clean and Safe Team to help with Outreach Workers and employees and visitors coming to the Providence area.
"We're pleased to partner with our downtown neighbors to support solutions to the significant and growing need for outreach, behavioral health, and housing placement services in Providence. This work complements our long-time investments in healthy lives and housing," said Neil D. Steinberg, president and CEO of the Rhode Island Foundation. "We encourage contributions to the Fund, particularly from all downtown business leaders. A gift to this effort will make clear that you recognize the impact substance use disorders, untreated mental illness, and resulting homelessness have on individuals, and the community as a whole."