Providence Bruins Get Back In Win Column Against Worcester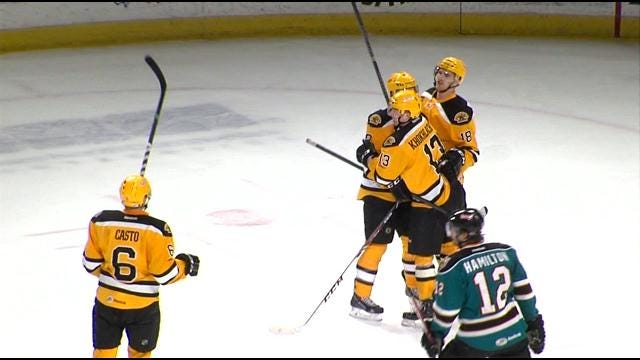 Providence Bruins Press Release
Providence, R.I. – This afternoon at the Dunkin' Donuts Center the Providence Bruins defeated the Worcester Sharks by a final of 2-1. Justin Florek and Zach Trotman scored for the P-Bruins while Malcolm Subban made 38 saves.
The physicality picked up throughout the first period between Atlantic Division rivals. With the Sharks sitting in tenth place in the Eastern Conference and the P-Bruins in an eighth place position, both teams played with a purpose. The P-Bruins and Sharks exchanged quality scoring opportunities throughout the period, however, they went scoreless into the first intermission.
In the second period, the rivals continued to battle hard. Subban along with Worcester goaltender Harri Sateri stayed strong in the net. The P-Bruins managed to strike first at the 18:00 mark when after a battle in front of Sateri, the puck rebounded out to Chris Casto. With the puck on his stick Casto took a hard wrist shot from the blue-line that was deflected into the net by Florek. It was Florek's 16th goal this season while Casto and Griffith were given the assists. The P-Bruins went into the second intermission with a 1-0 lead and the momentum swinging in their favor.
The P-Bruins focused on extending their lead in the third period. At the 13:10 mark, the P-Bruins capitalized on the power play. Standing in the center of the P-Bruins' offensive zone near the blue-line, Trotman set himself up and took a hard wrist shot that sailed past Sateri. It was Trotman's sixth goal this season while Craig Cunningham and Griffith were awarded the assists. The Sharks found some life shortly after at the 14:06 mark when Dan DaSilva jammed a puck past Subban for his 16th goal this season. Bracken Kearns and Dylan DeMelo were awarded the assists. Although the Sharks pressured Subban with some great scoring chances, the P-Bruins held on for the 2-1.
The P-Bruins were 1-for-3 on the power play and 3-for-3 on the penalty kill. Subban blocked 38 on 39 shots while counterpart Sateri stopped 28 shots.
The P-Bruins will go on the road for the next week. They will continue to fight to secure a playoff spot when they travel to Wilkes-Barre/Scranton to take on the Penguins on Wednesday at 7:05 p.m. and then they will head out to Portland to take on the Pirates on Saturday at 7:00 p.m. before returning home. Providence will have their next home game on Friday, April 4th at 7:05 p.m. when they face-off against the Worcester Sharks. The first 1,000 fans in attendance will receive a coozie courtesy of Uncle Bob's Self Storage. For tickets to this or any other home game please visit providencebruins.com