Providence celebrates bike to work day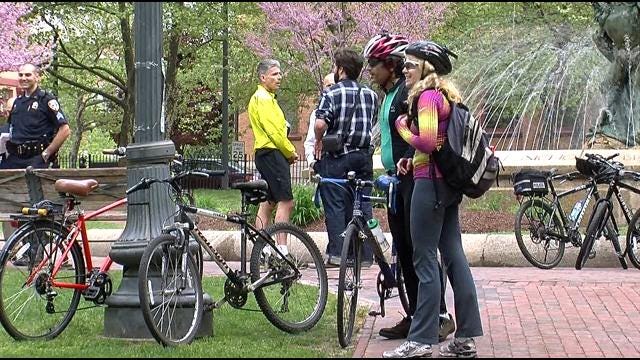 By: Melissa Randall
As long as the weather is nice Jeff Lykins commutes to work by bicycle. In the last year he's clocked over 1,900 miles getting to and from his Providence job.
"It's nice. I like it. When I get to work I'm awake and ready to go," said Lykins.
On Friday dozens of people ditched their cars and joined Lykins on the commute. It was all part of the Rhode Island Bicycle Coalition's annual bike to work day celebration.
"The hill was a little tough, but I thought it was pretty good. And it reminds me, as always, that we have more work to do on our streets," said Providence Mayor Angel Taveras who joined in biking from his house in the Mount Pleasant neighborhood to City Hall.
The mayor rode in on a powder blue chainchain less. It's a sample of what could be available for people to rent through a new bike share program. The city is hoping to get one up and running, and is currently looking for a financial backer.
"Well it's several hundred thousand dollars for the start up costs, but it's also giving you a chance to promote among yourselves, so we're hopeful that we can find a sponsor that can make it happen," said Taveras.
Providence prides itself on being bike friendly. The city has added bike lanes and share the road signs, but understand that some times bumps in the road are unavoidable. That's why three bike repair stations will soon be popping up in Burnside, Roger Williams and Riverside Parks.
"We've got a pump included with them you can air up your tires or fix a flat from the ground up on these stands," said Jackson Morley, Director of Public Projects for the Steel Yard.
The stations were funded by a grant, and will be operational in the next few weeks.
Once a sponsor is secured for the bike share program it would include 200 bicycles at 20 bike stations in the first phase. Users could get daily, weekly or yearly memberships.
© WLNE-TV 2014
Follow me on Twitter @MelissaARandall