Providence Good Samaritan returns lost wallet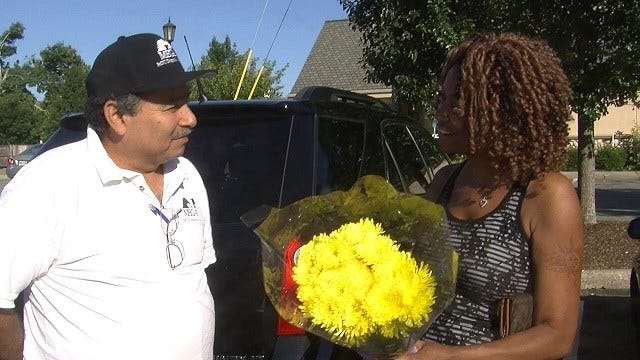 By: Kainani Stevens
kstevens@abc6.com
A lost wallet with thousands of dollars inside is returned to a local woman thanks to a good samaritan.
A lot can be said for southern hospitality, but when Yolanda Ashbee moved to Massachusetts from Virginia last week, she experienced first hand just how kind New Englanders can be.
Ashbee was reunited Thursday with the Providence man who returned her lost wallet to Smithfield Police. The wallet was fully intact, with credit cards, checks, her license and $1,600 in cold hard cash. Ashbee lost her wallet with all of her important documents after picking her dog up from a kennel in Smithfield on Saturday.
"I was driving and looked over on the seat and realized my wallet was not there," said Ashbee. "I thought to myself 'oh my god, it was on the roof with my phone."
Ashbee turned the car around and tried to retrace her steps but broke down when she couldn't find any sign of it. She then called police to report the wallet missing and received unexpectedly good news.
"The police officer told me that they found my wallet and he asked me how much money was in it and I told him and he said everything was there so I just grabbed my heart and started smiling."
Manny Bellas, a driver for MTG Disposal Company came across the wallet and immediately knew what to do. "I looked and saw there was a lot of money inside," said Bellas. "It's no matter. I saw there were a lot of documents too so I just grabbed it and took it to the police."
Manny is an immigrant from El Salvador who now lives in Providence. He says he never thought about taking the money, he just wanted to return it to it's rightful owner.
(C) WLNE-TV 2015