Vandalized monument honoring fallen WWI soldier replaced ahead of Memorial Day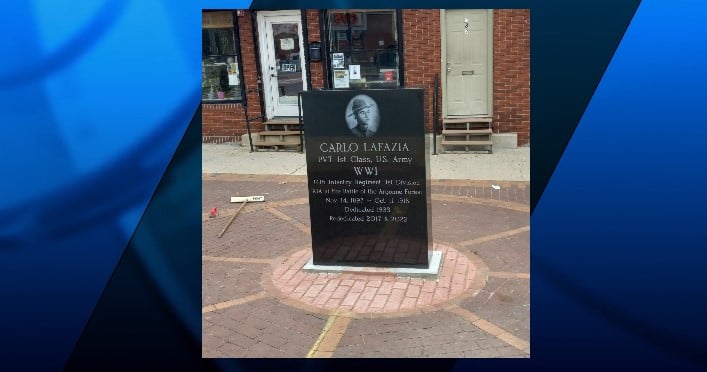 PROVIDENCE, R.I. (WLNE) — A vandalized monument honoring a fallen World War I soldier was replaced ahead of Memorial Day weekend.
City leaders unveiled a monument Friday in Eagle Square Park dedicated to Pvt. Carlo Lafazia. A previous monument for Lafazia was vandalized in 2017 and then the one the city built as well in 2021.
"My wife and I would visit that stone quite often. On memorial day, veterans day. We would place flags on the stone," said Jerry Lafazia, a nephew of Lafazia.
"When this monument went missing and later vandalized, it became a priority for me to create a new memorial for Private Lafazia and his Providence descendants, the O'Connor family," Councilor David Salvator added.
This Memorial Day weekend, the Providence City Council honored the Lafazia family with another monument, with the hopes this one will last. The city also honored the Lafazia family by renaming a portion of Admiral Street in Lafazia's name, now called "Lafazia Way."
Lafazia grew up in the the city's Elmhurst neighborhood. He was a Private 1st Class U.S. Army Infantry soldier, and was killed in action in France in 1918.
"We have a real opportunity in this city to not only showcase what's important. But to educate our young people about the sacrifices the Private Lafazia's have made," said Salvatore.
"As we head into the Memorial Day weekend, let us never forget the sacrifice of young soldiers for our freedoms today," added Council President John Igliozzi.
Jerry Lafazia's one wish is for his uncle's monument to last.
"Is it too much to ask for Carlo to rest in peace?" he asked.