Providence Hurricane Barrier Holds During Sandy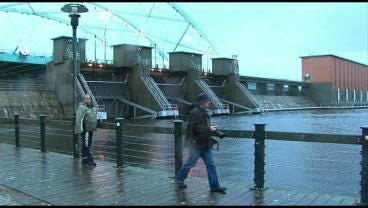 By: Melissa Toupin
A sigh of relief tonight. The Fox Point Hurricane Barrier in Providence is holding. After cresting around 8:30 PM the water is receding, and the barrier is again open.
Water was on the rise in Naragansett Bay at India Point Monday. The water levels putting the Fox Point Hurricane Barrier to the test.
"After all these years of living here I've never seen the barriers, you know the doors, closed like this," said Mario Cabral of Providence as he stopped to check out the scene Monday afternoon.
The biggest concern was high tide which occurred just before 8:30 PM. It came with an impressive 7 foot surge. The barrier held and the capitol city was protected from the flood waters of Sandy. It worked just as it was designed to.
"It's closed right now. There's no storm surge going up in the city of Providence," said Major General Kevin McBride of the Rhode Island National Guard.
Earlier in the day there was no shortage of people stopping to take pictures. But Providence's public safety commissioner says the flood threat is no joke. The barrier was closed at 6:45 AM only opening once to release some water. By 8PM city Department of Public Works crews blocked off flood gates at several low lying roadways.
"We decided to close 4 out of 5. And that's based on the projections of the high tide coming in this evening," said Providence Public Safety Commissioner Steven Pare.
The hurricane barrier was built in the 1960's to prevent devastation like the 1938 hurricane that swamped Providence with a 17-foot surge. Tonight it appears to have done it's job.
"Together we will get through this storm as we have gotten through other storms as well," said Mayor Angel Taveras of Providence.
Tomorrow mornings high tide is expected to be only half of what Naragansett Bay saw Monday evening.