Providence I-95 traffic pattern change put off until Sunday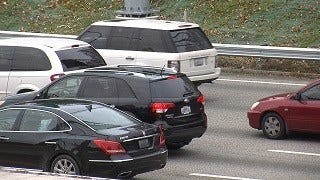 By: The Associated Press
news@abc6.com
PROVIDENCE, R.I. (AP) _ A change in the traffic pattern on Interstate 95 through Providence is being put off until Sunday.
The Rhode Island Department of Transportation says it's postponing the lane change on I-95 South near the Providence Place mall because of rain forecast for Friday.
The new configuration will move one of the three lanes of the highway to a new bridge.
The change was put into effect Tuesday but caused a massive traffic jam that stretched to the Massachusetts border. Many motorists wrongly thought they had to exit if they didn't move to a left lane.
Transportation officials went back to the old traffic pattern for the rest of the week.
They say they're improving signs and the configuration leading up to the split before trying again this weekend.
© The Associated Press ABC6 / 2016