Providence man accused of threatening church members appears in court
Police said the threats were related to the arrest of Father James Jackson. Rhode Island State Police said they found Father Jackson in possession of child pornography at St. Mary's on Broadway.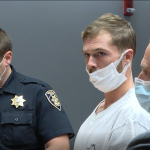 Providence, R.I. (WLNE) – A man accused of showing a gun and threatening members outside of St. Mary's on Broadway in Providence is being held without bail, pending a hearing next week.
28-year-old William Nesbitt was arrested Monday evening. Nesbitt appeared in court Tuesday morning.
He is charged with 10 counts of disorderly conduct (one count for each person outside the church) and one count of carrying a 9mm handgun.
On the 11 total counts related to Monday's incident, the judge granted $20,000 bail with surety. Bail would come with two conditions:
1. Nesbitt must stay away from the church and cannot contact anyone associated with the church.
2. Nesbitt must undergo a mental health evaluation and substance abuse evaluation.
However, because Nesbitt is also accused of a probation violation, the judge ordered him to be held without bail on that violation charge. Nesbitt will have a status update hearing on November 9.
According to police, Nesbitt's threats were related to the arrest of Father James Jackson over the weekend. Rhode Island State Police arrested Father Jackson on Saturday. Officers said they found him to be in possession of child pornography at the church.
The police report from Monday's incident says Nesbitt was yelling and screaming obscenities at the parishioners outside of the church. The report states that Nesbitt was telling the parishioners that, by staying at the church, he believed they were supporting a crime against children. The group outside the church told police that Nesbitt lifted his shirt and showed a gun.
Police later arrested Nesbitt at his apartment. Nesbitt lives right next to the church on Broadway, but he told the judge that St. Mary's is not his parish.
You can read more on the weekend arrest of Father Jackson here:
ABC6 spoke to some church members and a staff member. Read more about what they told us here: