Providence man celebrates 103rd birthday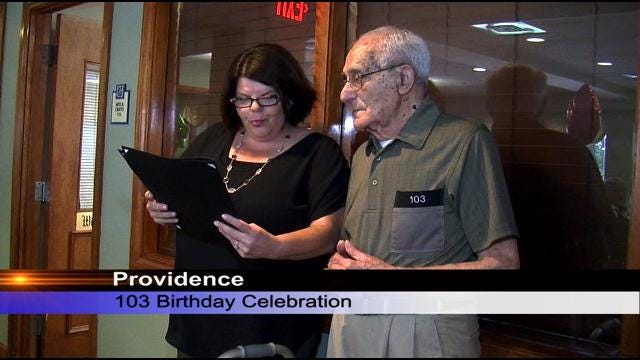 By Liz Tufts
Father's Day may have come and gone, but one dad is still celebrating.
Frank Iacono of Providence turned 103 on Sunday, and he knows just how lucky he is.
"It's unbelievable, I'm very thankful to the good Lord."
With his 96-year-old wife Mary by his side, Frank says he owes his longevity all to his parents..
His mother lived to 87, his dad 93. "They brought me up right, and taught me right, to love everybody."
And Frank has accomplished a lot in his long life.
He enlisted in the Air Force in 1936, reaching the rank of Chief Master Sargeant.
And at 103 years old, he's also still an active member in the Providence Civic Orchestra.
But his biggest accomplishment? His four children.
"They all went to college and all behaved, so I'm a proud father"
Before his family and friends at the Highlands Assisted Living Community in Providence, he was handed citations from the offices of Governor Raimondo and Mayor Elorza…
"Frank is such an inspiration to all of us, he's just an amazing man," said Melissa Joyal of the Providence Civic Orchestra.
So what's his secret to a long life?
"I never took medication until 101 years old."
© WLNE-TV 2015