Providence man gets life in prison for drive-by killing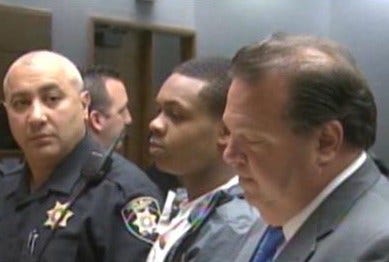 By The Associated Press
PROVIDENCE, R.I. (AP) _ An 18-year-old Providence man has been sentenced to life in prison for his role in a drive-by shooting that left one dead and another injured.
Joseph Taylor pleaded guilty Tuesday in Providence Superior Court. He was sentenced to 20 years for weapons charges in addition to the life sentence. He will be eligible for parole in 20 years.
The prosecution says Taylor was riding in a car on May 14, 2014, when he fired a 9 mm handgun at the passengers in another car. The shots struck and killed 20-year-old Davon Taylor, who is not related to the defendant, and injured Davon Taylor's 15-year-old sister, Destiny.
The prosecution says Taylor targeted Davon Taylor because he was from a rival neighborhood.
Taylor's attorney did not immediately return a message seeking comment.
© The Associated Press/WLNE-TV 2015