Providence march to commemorate MLK's legacy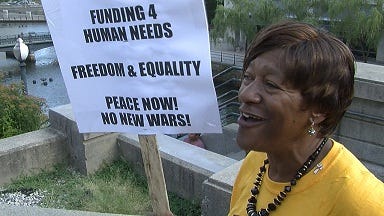 By: Alexandra Cowley
Wednesday marks 50 years since the first march on Washington
when Martin Luther King gave the famous "I have a dream speech."
A commemorative march took place through downtown Providence
earlier today with a sea of people chanting and waving signs. One
local woman was singing a familiar song.
"I ain't going to let nobody turn me around," sang a woman in the crowd of people preparing to march through Providence.
For Addie Hill of Providence, Wednesday's march brings a flood
of memories.
"We were marching so we could be like everybody
else," she explained.
Hill was in the crowd of 250 thousand on the National Mall 50 years ago. She was just 15 then.
"It was a little bit scary because I was a teenager and
a long way from home," she said.
Hill grew up in the center of the Civil Rights movement in Birmingham, Alabama. In fact, she says, she was a part of the Southern Christian Leadership Conference, led by Dr. Martin Luther King Jr.
Hill remembers what it was like getting on the Greyhound bus
to travel to Washington for the march.
"It was always you had to go to the colored side, you know
they didn't even say black, we couldn't go into regular bathrooms, we rode the Greyhound bus, you always had to sit in the back," she recalled.
It's those painful memories that brought Hill out to this
march in Providence. She, along with everyone else, wants to continue what MLK
started.
"If it wasn't because of racism, a lot more African Americans and Hispanics would be working," Mayra Paulino.
Mayor Taveras believes strongly that he is where he is today
because of the work of Martin Luther King.
"I feel I owe a debt that I cannot repay to Dr. King," said Mayor Taveras.
Everyone came out to honor King and his message, but also to
remind people his work isn't over.
"To make sure that we have equality and opportunity for
all, and that work continues every single day,"said Taveras.
It's a message Hill holds dearly, and remembers as if it were
yesterday.
"I'm going to keep on walking, keep on talking, walking
up to freedom land," sang Hill.
(C) WLNE-TV 2013