Providence Mayor Announces Graffiti Crackdown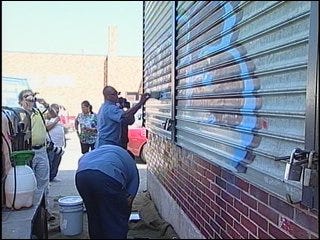 PROVIDENCE, R.I. (AP) – The mayor of Providence has announced a new approach to removing graffiti from city streets.
Mayor Angel Taveras said Tuesday that his office's anti-graffiti effort will be spearheaded a task force responsible for removing graffiti and making the public more aware of the problems associated with it.
The city will also offer $500 rewards for tips leading to the arrest of taggers.
The task force's work will be done, in part, out of two vans with high-pressure sprayers and paint.
Providence is also working with city organizations to paint murals over popular tagging spots, a tactic that the mayor's office says has been effective in other cities.
Copyright 2011 by The Associated Press. All Rights Reserved.