Providence police harassment investigation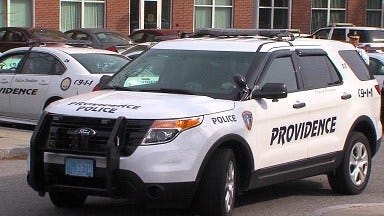 By Dana Griffin
@DanaGriffinABC6
PROVIDENCE, RI- While walking home from work on Vandewater Street last Friday night, Kobi Dennis' 18–year old son, Vaugh and two other teens were stopped, frisked and they say, humiliated by two plain–clothed gun task force officers.
"When the car approached my son and his friends they came to a stop. They jumped out, 'where's the guns? Where's the guns'," said Dennis.
After their backpacks and pockets were checked one of the boys asked the officer if they were finished.
Dennis said, "The guys in question took that as an insult and said, 'we'll break your f***** jaw', how about we do that? And the kids walked away confused, degraded."
The boys were not arrested but their families have all filed complaints which led to the eight–member gun task force unit being put on administrative duty for a few days. The unit is now back up and running but two officers remain on desk duty until the investigation is complete.
Dennis is the founder of Project Night Vision, which provides at–risk youth an active learning environment through athletics, team–building and community service. He works closely with state law enforcement agencies and is angry that his own son was wrongfully profiled.
Dennis said, "How about if it were their son or daughter or relative? What influence would they use to get things done?"
Last year the ACLU released an analysis of Rhode Island's racial disparities among police departments, which shows an increase in discretionary searches.
Dennis says he's pro–police and doesn't deny that guns are in the neighborhood, but he wants the searches to be done with professionalism, not humiliation.
"I hope that they realized their mistake. I would hope that they would want to change their behavior and become a better police officer," said Dennis.
A community forum will be held next Friday from 7–9 p.m. at the Broadway Street Salvation Army to discuss ways to move forward. Police officers are being invited to attend. Dennis says he'll be recommending a statewide gun task force that consists of all departments to encourage accountability.
©2015 ABC6/WLNE-TV. All Rights Reserved.