Providence Police: One dead, second injured in midday shooting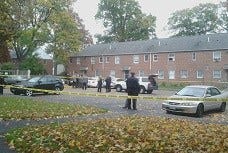 By: Dee DeQuattro
Email: ddequattro@abc6.com
Twitter: @deedequattro
Providence Police are on scene on Fillmore Street near the Chad Brown Housing complex where two people were shot shortly before noon.
One of the persons shot was pronounced dead on the scene, the other was injured and transported to the hospital. The extent of that victim's injuries are unknown at this time.
the father of the man who was killed identified him as 22-year-old Terry Robinson. Robinson was the victim in a shooting outside Club Fete in September.
No arrested have been made in connection to the Chad Brown Shooting. The matter remains under investigation.
(C) WLNE-TV 2014