Providence Police searching for Sovereign bank robber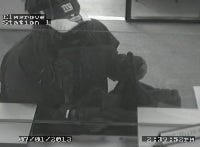 By: Haley Costello
Providence Police are searching for a man responsible for
robbing a Sovereign Bank on Monday afternoon.
A witness said that a man walked into the bank, carrying a
pillow case. He then proceeded to point a hang gun at the bank teller and said, "Hurry
up and give me all the money, honey. I have a gun."
The teller filled the pillow case with money and then the
suspect left the bank in a black vehicle with a Massachusetts license plate, driven by a
white male.
The suspect is a 6-foot 2-inch black male, weighing around
180 pounds. Anyone with any information is asked to call the Providence Police Detectives
at (401) 243-6406.
(C) WLNE-TV 2013