Providence Police seize 11 firearms in 3 days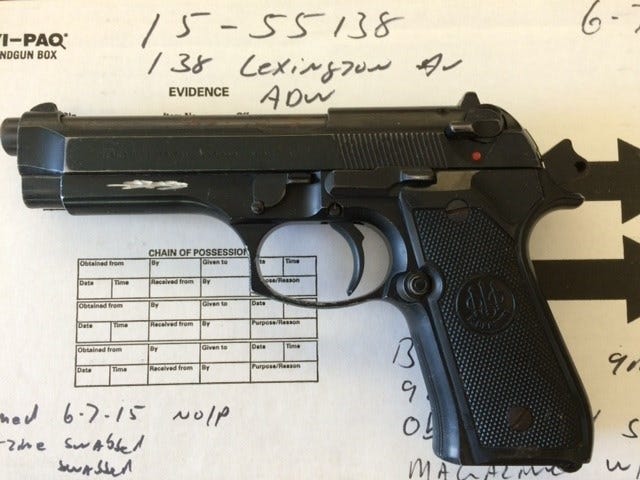 By Jennifer Petracca
news@abc6.com
@abc6
Over a three day period, the Providence Police Task Force seized nearly a dozen guns in four separate incidents.
65-year-old Angel Franco and his son, 42-year-old Angel Franco Jr., are accused of selling firearms and drugs form their Pawtucket home. Police say several firearms and ammunition were seized from the home on June 5th.
The Francos were charged with possession of 1-5 kilograms of cocaine and conspiracy. Franco Sr. was also charged with possession of a firearm after being convicted of a crime of violence, and four counts of a stolen firearm.
On June 4th, 23-year-old Juan Lajara, and 23-year-old Thomas Lumpkins, were arrested charged with possession of a firearm without a license and narcotics violations. Police seized a .380 caliber handgun, a .30 caliber revolver, 3 grams of heroin, and 5 grams of marijuana from their apartment.
On June 7th, police arrested Trenton Keith, 20, after he jumped out of a moving vehicle during a pursuit and pointed a firearm at the task force officers. Police located Keith behind a home on Adelaide Avenue, where they also seized a Beretta 92F. He was charged with possession of a firearm while committing a crime of violence, and possession of a firearm with obliterated serial numbers.
Also on June 7th, the task force located a 9mm firearm in a trash can near Hawkins Street, as a suspect fled the area.
Mayor Jorge Elorza commended the department, saying, "Providence is fortunate to have such a capable and distinguished police department. I commend recent efforts to keep illegal guns off of our streets. Residents, businesses and visitors can be assured that our commitment to keeping this city safe will not waiver."
Providence Police Colonel Hugh T. Clements, said, "These incidents are all examples of the challenges that the members of the Providence Police Department are faced with every day involving gangs, drugs, and firearms. I commend all of our dedicated officers who are committed to protecting this City and its residents."
© WLNE-TV 2015