Providence police seize 13 vehicles in ATV arrests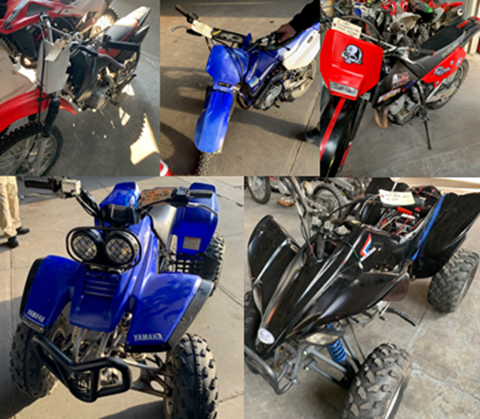 PROVIDENCE, R.I. (WLNE)- The Providence Police Department seized 13 illegal dirt bikes and ATVs during the arrests of five more reckless drivers on Friday.
Wignor Estrella Payano, 33, is being charged with Operating an Unregistered Motor Vehicle, Resisting Arrest, and Operating an Unregistered Motor Vehicle without a License.
Esfrailay Ferreras-Gomez, 18, Jonathan Masa, 25, and an anonymous 14-year-old juvenile male were all charged with Reckless Driving and Eluding.
Luis G. Velez, 23, was charged with Operating a Stolen Motor Vehicle, Possession of a stole Motor Vehicle, Operating an Unregistered Motor Vehicle, and Reckless Driving.
These arrests came just one day after Providence Mayor, Jorge Elorza, held a press conference discussing the dangers of these vehicles.
Police also issued numerous summonses for other ATV and dirt bike related violations. In some cases, the drivers of the illegal vehicles would evade police, driving on the wrong side of the road, weaving through traffic, and even driving on the side walk.
Col. Hugh T. Clements Jr. commended the officers, "A tremendous job was done by our officers in removing 13 potentially dangerous vehicles from our streets and apprehending five individuals. Providence Police will continue to conduct these operations in the weeks ahead to focus on illegal and reckless activity."
©WLNE-TV/ABC6 2021