Providence Police seize 138 guns in 2013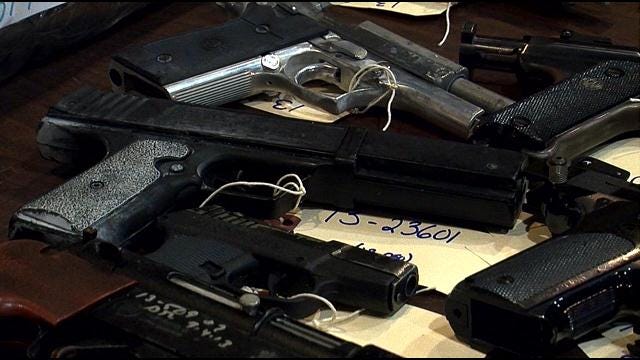 By: Melissa Randall
Providence police seized a record amount of illegal firearms in 2013 while working with a smaller amount of officers on the force. The department displayed the cache during a press conference at the Public Safety complex Thursday morning.
Nearly 140 guns of all styles and sizes were confiscated from crimes last year. Some of them were used in homicides and others were pointed right at officers.
The department says keeping guns off out of the hands of people who use them intimidation or violence is a top priority. Using crime data officers have been able to track down gun hot spots.
In 2013 138 guns were taken off Providence streets. That's up from 130 in 2012. 134 illegal guns were seized back in 2011.
"These arrests don't come easy," said Col. Hugh Clements. "More times than not it's not they put the gun down and their hands go up and they stand there. It's a foot chase, a vehicle pursuit, a wrestling match, or a shootout."
The number of shootings in the capitol city has also seen a decrease in recent years- from 110 in 2011 to 100 in 2013.
The community has played a large role in helping to keep the streets safe. Police commissioner Steven Pare says in one case an anonymous tip led officers to the seizure of a gun used in a homicide.
Mayor Angel Taveras reaffirmed that the city is safe.
A new police class will be starting in 6 weeks. There are 60 recruits and Taveras said it will be the most diverse group of men and women in the cities history.
You can report anonymous tips about guns by calling 855-776-7100 or texting the key word PPDTIP plus your tip to CRIMES (274637).
© WLNE-TV 2014
Follow me on Twitter @MelissaARandall