Providence protesters look to reclaim Muslim American narrative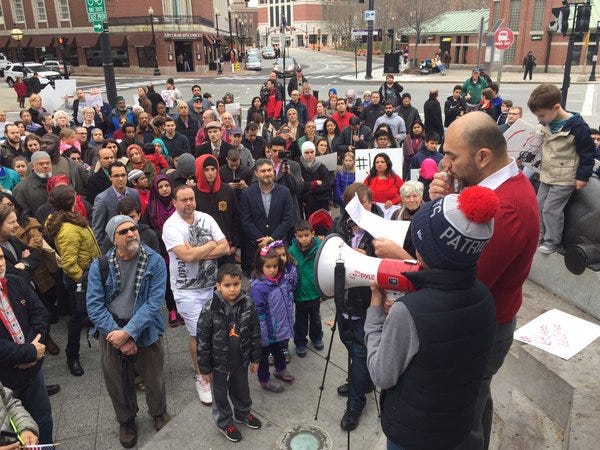 By Bianca Buono
@BBuonoABC6
Around 400 protesters of all ages and religions rallied just across the street from Providence City Hall in an effort to reclaim the Muslim American narrative.
"I think it's important for us to be speaking out against the anti-Muslim, anti-refugee and anti-immigrant in the United States," said Fadya El Rayees.
"I think it's important to show people that there's no room for racism in America," said Imran Nasrullah.
"ISIS groups and other terror groups make up less than 1 percent of the Muslim populations," said Danish Azam, a protester.
Ehsun Mirza, a Muslim living in Rhode Island, organized the protest.
"This is what America is all about," Ehsun Mizra said, moments after addressing the crowd.
It comes in the wake of violent terror attacks and Donald Trump's response to them. He proposed banning all Muslims from entering the United States.
"We are here to condemn all sorts of terrorist activities and radicalization of religion and the political thought process," Mizra said.
Protesters touted clever signs. One read, "Save your hate for brussel sprouts."
"Hating brussel sprouts doesn't mean you hate vegetables. It's just one part of it. Hating terrorists isn't hating Muslims, isn't hating Christians. It's hating terrorists," said Jerry Belair, the man behind the sign.
While organizers viewed this protest as a wild success, they say their work isn't done here…
"We have to reject the rhetoric that is going to dehumanize any person or any people. We have to work together to make our country strong," said Mizra.
Mayor Elorza did okay the protest ahead of time. There was a police presence but there were no incidents.
© WLNE-TV 2015