Providence Schools Closed Wednesday, City-Wide Parking Ban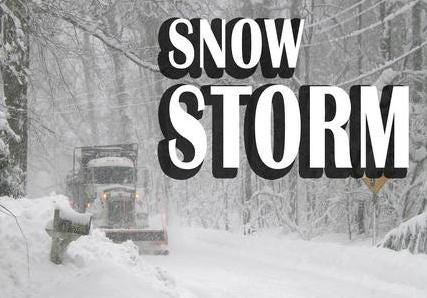 Providence Public Schools and all after-school activities will be closed Wednesday due to the winter storm.
Mayor Angel Taveras and his administration issued this plan late Tuesday on how they're responding to the storm:
A City-wide parking ban will go into effect at midnight tonight and will extend until 6PM Wednesday, January 12.
The following weather event preparedness plan for the City of Providence is now in effect:
For public safety purposes, cars in violation of the City-wide parking ban will be ticketed and towed. Cars parked in school parking lots overnight will also be ticketed and towed.
Trash removal for the City of Providence has been delayed for one day. Wednesday's trash and recycling collection will be postponed until Thursday, January 13. There will be a one day delay for the rest of the week. No Bin No Barrel will be suspended on Thursday, January 13th
For fire safety purposes, residents are urged not to rebury fire hydrants after they have been dug out.
By City Ordinance, businesses and residents must not place snow removed by plowing or shoveling into public roadways and sidewalks.
City Hall will be closed on Wednesday, January 12.
The City is encouraging businesses to consider allowing employees to work flexible hours on Wednesday to reduce travel during the height of the storm.
PEMA is prepared to open emergency shelters if necessary and the agency's shelter volunteers who have been trained by the Red Cross are on standby ready to respond.
The City is prepared to offer the following services to the elderly and those with special needs:
All Meals on Wheels participants are given an extra meal for Wednesday.
All meal sites will be closed Wednesday and participants are given an extra meal today to take home.
Most senior centers have already announced closing tomorrow.
We are seeking volunteers to help shovel out the frail elderly. The City is working with a number of volunteer agencies to help these residents.
"As the City prepares to respond to this storm, I urge residents to adhere to the parking ban and stay off the roads, if possible, so that crews can plow and make the streets safe for travel," Mayor Taveras said. "We are ready for this storm and our crews will be working throughout the night and early morning hours to make sure that our City is safe and business returns to normal as soon as possible."
Snow removal response
PEMA will coordinate the City's response to the storm from the Emergency Operations Center (EOC). The Department of Public Works crews will begin pre-treating the main roads later this evening, well in advance of the storm. DPW will have more than 130 trucks on the road and will focus on clearing the main arteries, overpasses and hospital routes first, before making their way to secondary roads. Providence Police will monitor key intersections to ensure smooth traffic flow traffic during rush hour. Staff from the Mayor's Office of Neighborhood Services will be on hand to answer calls until 6:30pm Wednesday evening at 421-2489.
Additional Recommendations for residents:
Motorists are asked to stay off the roads if possible during the height of the storm. If residents need to drive, allow extra time and use extreme caution on the roadways.
Fuel your vehicle and make sure windshield wipers, defrosters and mirrors are in good working order. Switch to snow tires to make certain your vehicle is able to negotiate snow covered roadways.
Stayed tuned to local broadcasts for information on storm related updates.
If power outages occur, contact National Grid at 1-800-322-3223. For Gas Leaks call 1-800-640-1595
Do not touch any downed utility lines and report them to the Fire Department at 274-3344.
For trees that are not posing a safety hazard, contact the Parks Department Forestry Division at 785-9450.
Remove snow from sidewalk within 8 hours after the storm as required by law.