Providence Second-Grader Sells Hot Chocolate for Puerto Rico Hurricane Relief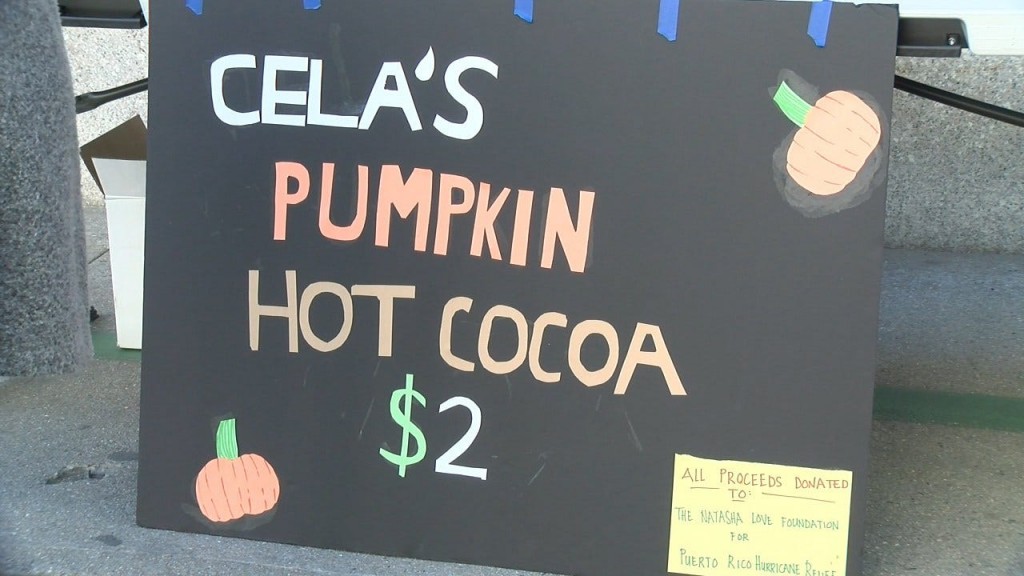 By: Tim Studebaker
Facebook: @TStudebakerABC6
Twitter: @TStudebakerABC6
Email: tstudebaker@abc6.com
PROVIDENCE, R.I. – Nearly a month after Hurricane Maria devastated Puerto Rico, efforts are still underway to help the island recover. A second-grader from Providence decided she could make a difference.
With each cup of pumpkin hot chocolate, topped with whipped cream and her own special blend of spices, 7 year-old Cela Nguyen is hoping to make a difference in the lives of Puerto Ricans as the island recovers from Hurricane Maria.
She's raising money for the Natasha Love Foundation so they can send relief supplies to Puerto Rico.
Nguyen says, "They couldn't bring it to Puerto Rico. It's because of shipping costs."
Nguyen set up shop in front of Knead Doughnuts in downtown Providence on Wednesday, attracting business from folks all around the area. She got the idea when her mom picked her up from school the day Maria hit the island.
Nguyen says, "She said 'What do you want to do to raise some money for Puerto Rico?' I said 'Since it's fall, we can just do pumpkin hot chocolate.'"
She emptied her piggy bank, $150 she had saved over 5 years, to buy supplies.
Nguyen's mother, Leishla Maldonado, says, "My mom has been having some anxiety through all this, obviously. It's her sisters and brothers. So, [Cela] just likes to act as soon as she sees that one of us are super upset."
Folks that stopped to contribute were impressed with the 7 year-old's initiative.
Olive Wicherski was one of Nguyen's customers today and says, "It makes me feel, obviously, proud and really happy that a small girl in Providence is using her resources to make a difference"
Her idea paid off. Her mom tells me they raised $550.
If you weren't able to get your hands on some delicious hot chocolate, and you still want to help out those in need in Puerto Rico, you can find more information about the Natasha Love Foundation at their website: https://thenatashalovefoundation.com/
©WLNE-TV / ABC6 2017