Providence teachers disrupt Mayor Elorza's State of the City address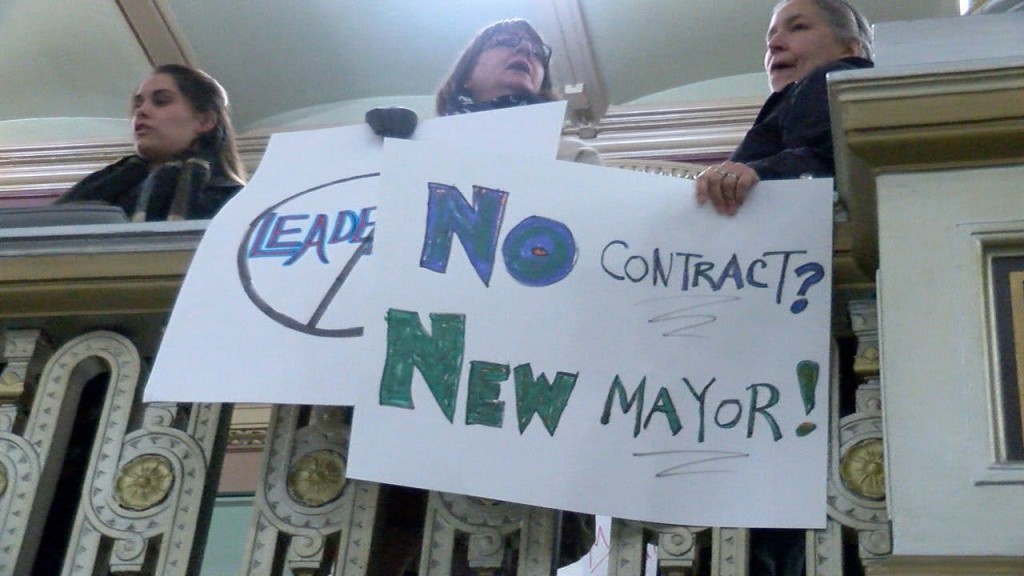 By John Krinjak
Email: jkrinjak@abc6.com
Twitter: @johnkrinjakABC6
PROVIDENCE, R.I. (WLNE) — What was described as an informational picket by members of the Providence Teachers Union before Mayor Jorge Elorza's State of the City address, ended up spilling over into the council chambers and the speech itself.
Elorza's 40-minute address was overrun by 40 minutes of chanting and yelling from angry teachers, shouting "shame on you."
The mayor stopped his speech twice, before shouting through the rest.
The Teachers Union held the protest to show their disapproval of how Elorza has handled contract negotiations.
"Pay raise is the biggest issue. We had a negligible offer on the table and he reneged on the offer, and never in the history of contract negotiations has any mayor ever done that," said Providence Teachers Union president Maribeth Calabro.
The speech was heavy on education, with the mayor touting investments in summer learning, computers and building upgrades.
But when it comes to raises, Elorza said, "We just don't have the money right now. The teachers received a raise 8 months ago and they're asking for another raise. Before we get to that point, let's talk about a transformational contract. And I'm willing to reach an agreement."
As for the disruptions, "I feel as though he heard us loud and clear and that was what we needed to do," said teacher Kayla Magee.
"If it was disruptive so be it. If it smartened him up and let him realize that we're not going away and we're not going to be quiet, we're not going to be disrespected, then so be that as well," said Calabro.
The mayor shrugged off the disruption, saying "it's democracy in action."
Elorza also brought up the recent distribution of racist flyers in the city.
He said they were an attempt to be divisive, but in a not-so-subtle dig at the President Elorza said, "We will not be divided, because our love trumps your hate."
© WLNE-TV / ABC6 2018