Providence teachers skip school kick off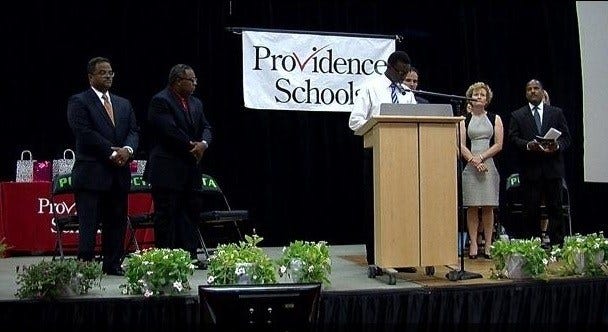 By: Melissa Randall
mrandall@abc6.com
The 2014– 2015 school year is underway in Providence. This morning teachers and administrators gathered at the Providence Career and Technical Academy for convocation- which was optional. Many teachers showed up, but hundreds of others choose not to participate at the request of union leadership.
"It was a difficult decision to have to have been made, but it had to be made," said Maribeth Calabro, Union President.
The PTU and school district have been in contract negotiations for 9 months. The current deal expires August 31st, and the two sides are yet to agree.
"We are not in fact at an impasse. We have a couple stumbling blocks that we've come to– they seem to be significant at this point, but there are other things that have occurred over the past couple of weeks that show a lack of respect for the membership," said Calabro.
"We've taken great strides in moving this system forward. We will not go backwards and we'll come to an agreement soon and continue the good work," said Dr. Susan Lusi, Superintendent of Providence Schools.
Calabro sent an e–mail to teachers Sunday night asking them to instead use the time Monday to prepare for the first day of classes. Students return Wednesday.
"It's not about impacting children. It's about having a conversation with the district and forcing them to respect what we do each and every day," she said.
"It's unfortunate that that disagreement is being expressed in this way but it is what it is," said a disappointed Lusi.
The first day teachers must report to work is Tuesday. That is fully expected to happen.
© WLNE-TV 2014
Follow me on Twitter @MelissaARandall