Providence tire dumper caught, says he regrets it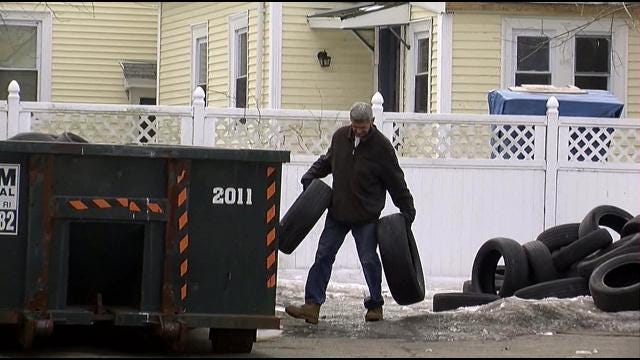 By: Alexandra Cowley
A Providence man is caught trying to make a quick buck, by dumping over a thousand tires throughout the Mount Pleasant community.
David Almeida has been slapped with some hefty fines as well as the clean–up of all the tires he left behind. He says his illegal business venture was a big mistake.
The 57–year–old is drowning in the tire dumping scheme he'd been working for some fast cash.
"Big mistake, big mistake," Almeida said.
Almeida was hired by a few auto shops in the Mt. Pleasant neighborhood to pick up tires and get rid of them. He was paid one dollar per tire. But, instead of taking them to the dump, he was dumping them wherever he could. Church parking lots, behind schools, even bringing them home to his Pomona Avenue residence where he lives with his elderly mother. It didn't take long before people started reporting the piles of tires popping up in the area.
"We have over a thousand tires that he's dumped here in Mt. Pleasant," said Councilman Michael Correia.
Correia was getting calls from residents, even witnesses, who watched Almedia drop hundreds of tires in vacant lots in broad daylight.
Correia said, "I know the economy is bad and people are looking to make a fast buck but you're not going to do it here in Ward 6 or anywhere in the City of Providence with illegal dumping."
Correira alerted Providence Police who started tailing Almeida, until they caught him in the act at the Providence FOP building off Manton Avenue. Police were able to cite Almeida for two of the dumping incidents. A fine of 500 dollars each. They've also ordered he collect all the tires. Some that Almeida says aren't his.
"I am guilty of a few incidences, but the Providence Police are blaming me for everything,"said Almeida.
This is one business venture he won't go after again.
"It cost me more than I made in the long run, because they got me picking up other peoples mistakes too," Almeida said.
Police are investigating the auto shops that hired Almeida, without the proper license. It cost the city of Providence over 500 dollars to collect the tires before Almeida was caught. Police have also passed along part of their investigation to DEM. One of the locations where Almeida dumped tires was near a river and could have caused contamination.
(C) WLNE-TV 2014