Providence to host New Year's Eve ball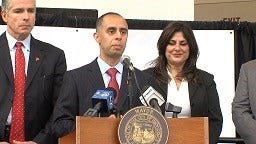 By Kirsten Glavin
kglavin@abc6.com
@kirstenglavin
After years without an official New Year's Eve event, Providence is now back in the party game.
"I'm actually ecstatic to see this event coming back into Providence," said one of the event sponsors.
It's not Bright Night, but instead, a sprawling gala will be held at the convention center. It's planned to be an evening filled with music, food, and a thousand of your closest friends.
"We're looking forward to bringing some great entertainment and unity to the city of providence for a great night," said another sponsor.
Mayor Elorza says the newly minted "One Providence New Year's Eve Ball" won't cost the city a dime.
"We're looking at sponsorships from companies throughout the state that will support this, and make sure it's a great event that people will continue to participate in year after year," said Elorza.
Tickets for the celebration will go on sale Monday starting at 50–dollars a piece on Ticketmaster.