Providence's Big East win streak hits 5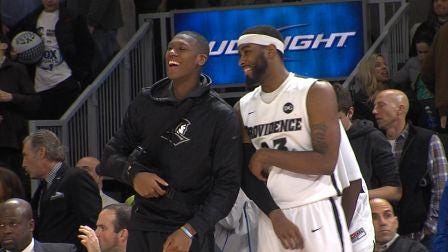 PROVIDENCE, R.I. (AP) — Bryce Cotton finished with 25 points and LaDontae Henton had 23 points and 11 rebounds as Providence held off Xavier 81-72 on Saturday.
The Friars (15-5, 5-2) have now won five straight Big East games, the program's longest conference winning streak since 2004.
Justin Martin paced Xavier (15-5, 5-2) with 19 points with Semaj Christon coming up with 18 points. Matt Stainbrook had 11 points and 9 rebounds. The Musketeers are in their first year in the Big East.
Kadeem Batts and Tyler Harris each contributed 12 points for PC, which shot 64 percent from the floor in the second half after connecting at a 29.4 percent clip in the opening 20 minutes. The Friars led 35-31 at halftime and are now 12-1 when holding the lead after the opening half.
Stainbrook's layup at 1:48 pull Xavier within 76-72 but that was it for the Musketeers. Cotton, who had seven assists, hit 3 of 4 free throws and Tyler Harris had two while Xavier was missing it last four shots.
PC attempted 30 free throws, making 16. Xavier went to the line 16 times, making 13.
Both teams finished with just six turnovers with Xavier winning the rebounding battle, 40-38. The Friars had to contend with serious foul trouble as three players had four personals with under five minutes remaining. Only one PC player ended up getting disqualified as Henton picked up his fifth foul with 2:13 left.
Tyler Harris had five points late in the first half as Providence took a 35-31 lead. A Stainbrook layup pulled the Musketeers within 38-37 early in the second half but a Cotton 3-pointer and free throw plus as assist on a Henton 3 put the Friars up 53-41 at 13:24.
A Jalen Reynolds layup, two free throws by Semaj christen and Isaiah Philmore's layup got Xavier within 58-54 at the 8:31 mark but Josh Fortune hit a 3 at 5:20 and the lead was back at 10.