Public-private partnership could mean more efficient pothole repair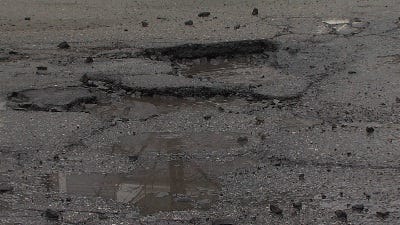 Nicole Gerber
@nicolegerber
CRANSTON – The loud buzzing, vibrating sound is music to the ears of Rhode Island drivers. It's nNew technology that works to improve pothole repairs.
"It's a vibratory roller…and it vibratory aligns all theparticles to jam them into the hole and you'll get 20–30% more material… Andyou'll get 3–5 times the life out of the hole," said Karl Wadensten, President of VIBCO.
The Rhode Island based company is the creator of theequipment, and it's donating the machines to municipalities in the state, starting with Cranston.
"We're trying it out, it seems to be working very well, itshould be once and done, stuff won't come out of the holes," said John Corso, Highway Superintendent of Cranston.
That will be especially important after the next bout of wetweather and cold temperatures – typically the cause of re–opening potholes.
VIBCO is willing to put its product to the test… markingthe most recent repairs… so that once the winter weather is over everyone will see which patches withstood the test of time.
"This is high tech, this is pothole patrol, Rhode Island pothole patrol!" said Wadensten.
In return for the equipment, VIBCO is asking for feedbackfrom the cities and towns who use the machines.
They eventually want to go international with this product.
(c) WLNE-TV 2014