Quahogging for fun with new app!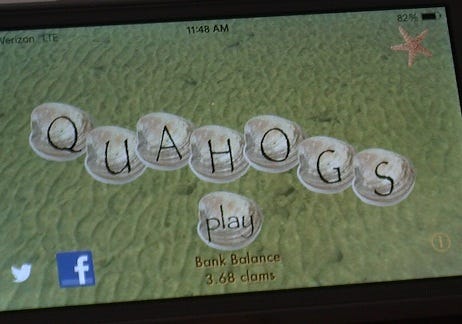 By: Chelsea Priest
From stuffies to clam cakes, the quahog is a Rhode Island staple on local menus. Many quahoggers will go out on the bay year round to rake in their product. One local shell fisherman inspired a new iPhone app all about Rhode Island's most popular shellfish.
Gerry Schey has been shell fishing Rhode Island waters for nearly 40 years. He says, "I conch fish in the fall and the spring and I shellfish the rest of the year."
He even tried to get his step son Mark Ferbert into the business. "I tried to get Mark out here a few times, I even
got him his own boat. He went out for a boat ride one day and as soon as he got
out there, it was kind of blowy, he started the engine up and came home and
that was the last time Mark tried quahogging."
Mark found another way to quahog though, by creating an iPhone app.
There's one main difference between the app and what Gerry actually does. In the app there's a diver searching for quahogs. Gerry
uses a bull rake, to rake for them out in the bay.
He says the traditional way of shell fishing is to stand in the boat
and you tug and pull on the t–handle.
In the game a diver takes a breath and dives to the bottom of the water to search for shells. Once you complete the level you can then sell your quahogs.
Gerry adds, "one of the nice things about the app is he actually puts the
average local price in the app."
He loves the concept and can't wait for more Rhode Islanders to discover the game. He says, "People all over the country from around here are going to
see the app and they're just going to want a piece of Narragansett Bay again."
The "Quahogs" app is $0.99 in the iPhone app store.
(C) WLNE-TV 2013