R.I. National Guard sees busiest days of testing on record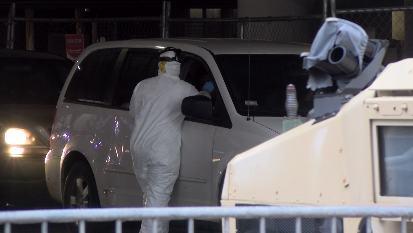 PROVIDENCE, R.I. (WLNE) – Coronavirus testing is ramping up across the state. According to the R.I. National Guard, these past two days were the busiest on record at the Convention Center since the start of the virus. On Tuesday, they performed 1,200 tests at the one site.
"I would say easily quadrupled," Major Robert James Jacavone with the R.I. National Guard said. "From when we first started out, we had a couple dozen a day or 60 a day at certain sites. Yesterday we hit over 1,200 at this one site and that doesn't include satellite sites across the state."
Major Jacavone says there's been a huge push for people to get tested and Rhode Islanders are listening. However, there's been some backup due to the demand.
He says it's very important to schedule a test instead of just showing up.
"A lot of people are showing up saying, hey, can I get a test, which slows down the process and it prevents people who are sick or first responders or teachers and legitimately need a test and just kind of backs everything up," Major Jacavone said.
Across the state, more than 13,000 tests are being performed every day. At the start of the pandemic, that number was at about 100.
"We've really been stressing the importance of testing," Joseph Wendelken with the Rhode Island Department of Health said. "It's a focus of Rhode Island and it's actually one of our strong suits. We've made an enormous investment in building out our testing infrastructure."
There's also a huge push for asymptomatic testing. The Department of Health is urging anyone who is a traveler, working in a high contact job or a young adult to get tested frequently.
"In the absence of a vaccine, one of the best tools we have to prevent transmission of the virus is case investigations," Wendelken said. "That all starts with that test."
To schedule a test, visit portal.ri.gov.