R.I. schools to return to full in-person learning, some still required to wear masks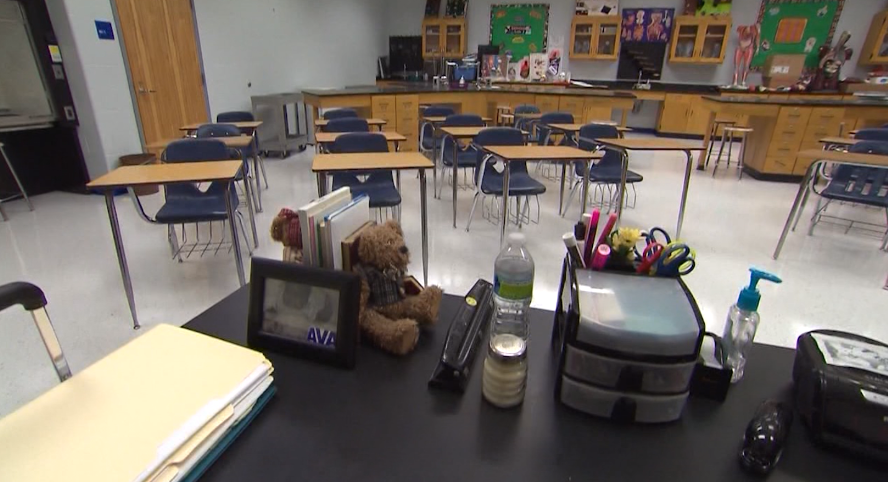 PROVIDENCE, R.I (WLNE) — Governor Dan McKee, along with RIDOH and RIDE, announced back to school safety guidelines for Rhode Island on Wednesday.
RIDE Commissioner Angélica Infante-Green and RIDOH Director Nicole Alexander-Scott, MD, MPH joined Gov. McKee at the Providence Career and Technical Academy at 9 a.m. to discuss the guidelines.
Governor McKee announced all schools will be back to full in-person learning this fall. School districts will not be required to provide distance learning to students, but must have protocols in place to teach students electronically for those with medical issues or in quarantine.
"We want schools to feel empowered to do what's best for students, staff, teachers, and families", said McKee.
The Governor also announced the students and staff who are fully vaccinated will not be required to wear a mask in the classroom. Those who are not vaccinated will be required to wear one.
Currently, 90% of Rhode Island teachers and staff are fully vaccinated, 60% of students 16-18 years-old and 40% of students 12-15 years-old are fully vaccinated.
Masks will be required for those younger than 12 years-old because that age group is not yet eligible to get vaccinated.
Commissioner Infante-Green also addressed busing, saying that there will no longer be capacity limits on school buses. However, due to federal law, all students will be required to wear a mask on the bus.
"This is like hope," Providence Teacher's Union President Maribeth Calabro said. "It provides us with hope after a really long and stressful year for teachers, students and their families."
Those changes are a welcome sight to many across the state, but also nerve-wracking to students who haven't yet returned to school or have been rotating between distance learning and in-person.
"It's going to take a real significant collaborative heavy lift in terms of reaching out to families, letting them know its safe, having conversations in the community with our parents and students to know that we're all going back and we'll do our best to keep everyone safe and healthy," Calabro said.
Commissioner Infante-Green says it's been tough communicating with some families and districts will spend the summer reaching out to address any concerns there might be.
"In Providence, we'll be hiring community members to actually go out into those homes, to knock on the doors to make sure we get those kids back because there's a high percentage of students that we have just not been able to communicate with," Infante-Green said.
RIDOH Director Alexander-Scott said that the state is currently in a great place, but their focus continues to get everyone vaccinated. She says the Delta variant poses a significant threat.
"Let's get to 100%," Dr. Alexander-Scott said. "There's no reason why we can't."
© WLNE-TV 2021