RailRiders Derail PawSox Depsite Strong Outing from Henry Owens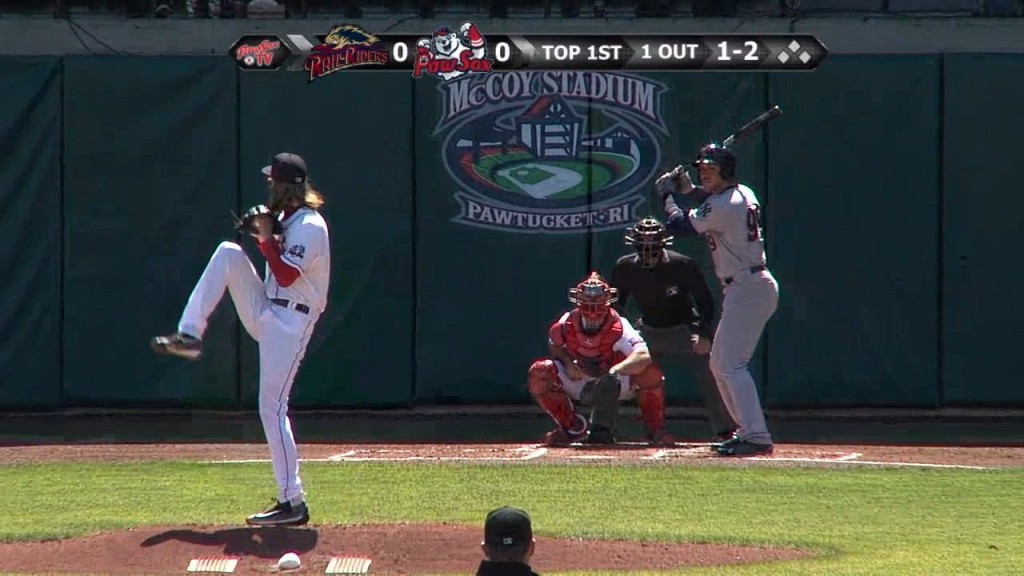 Paw Sox News Release…
(Pawtucket, RI) – Despite a terrific performance by starter Henry Owens and three relievers, the Pawtucket Red Sox failed to score, as the Scranton/Wilkes-Barre RailRiders completed a sweep with a 1-0 win at McCoy Stadium on Wednesday afternoon.
Pawtucket pitching allowed only three hits, but a second-inning run was enough for Scranton (4-2) to claim its 15th victory in 18 contests at McCoy Stadium since 2014.
Owens (0-1) did not allow a hit until Ben Gamel doubled with one out in the fifth inning. However, the RailRiders got on the board in the second inning after Owens walked the bases loaded and Eddy Rodriguez collected an RBI ground-out.
Owens struck out six and allowed two total hits in his outing. In his two starts combined this season, both 6.0 innings, he has struck out 14, compiled a 0.75 ERA and allowed a .081 opponent batting average.
Jorge Marban and Heath Hembree combined for three scoreless innings of relief. Hembree struck out five of the six batters he faced.
Scranton starter Kyle Haynes (1-0) tossed six scoreless innings to record his first win of the season, while Brandon Pinder closed out the game with three shutout innings for his first save.
Pawtucket (2-5) has dropped four games in a row and has not scored in its last 17 innings.
Despite the offensive struggles, Chris Dominguez collected a pair of hits and Marco Hernandez singled to extend his on-base streak to a team-high six games.
The PawSox embark on the season's first road trip tomorrow, beginning with a two-game series at Lehigh Valley. Pawtucket right-hander Sean O'Sullivan (0-1, 3.86) is scheduled to oppose IronPigs right-hander Jake Thompson (0-1, 1.80) in the 7:05 pm contest. Radio coverage on 920 AM (WHJJ) and also streaming online begins at 6:35 pm.
The PawSox will return to McCoy Stadium on Friday, April 22 for the first of a five-game homestand, beginning with a three-game series that will also be against Lehigh Valley. Good seats for all games in the series are still available at the McCoy Stadium box office, by calling (401) 724-7300 or by visiting pawsox.com.