Raimondo announced 5 new deaths from the virus, as R.I's total of infections hits 1450
"A story of triumph over an enemy," the governor addresses the state's Jewish community on start of Passover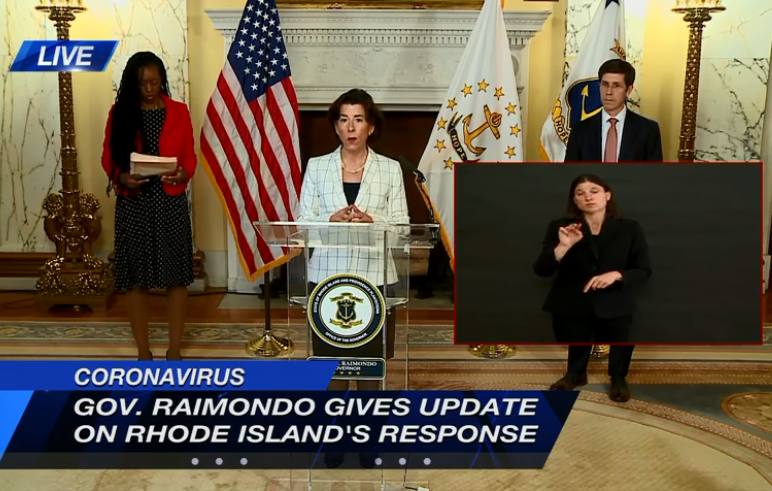 PROVIDENCE, R.I. (WLNE)- Governor Gina Raimondo announced five more deaths from coronavirus in the state at her afternoon briefing today.
The state now has 35 total deaths attributed to the virus. There were 220 new positive cases, bringing the state's cumulative total to 1,450.
Dr. Nicole Alexander-Scott, head of the state's Department of Health, said three of the fatalities were in their 70s, one was in their 80s, and the other in their 90s. Two were residents of the Golden Crest Nursing Center, and one was a resident of Oak Hill, the two nursing homes that have seen a large percentage of the state's COVID-19 fatalities so far.
The governor urged residents not to visit CVS pharmacies looking for tests, responding to confusion over the rapid-test site the pharmacy chain opened at Twin River casino in Lincoln. Those needing a test should visit CVS.com to schedule an appointment at the rapid-test site, or make arrangements for the other test sites with their doctor.
Raimondo extended the closure of the state's courts to non-essential business until May 17. This includes eviction proceedings, the governor said. 
Those under quarantine, and those unable to leave their home for other reasons, should take advantage of the RI Delivers website. The state-wide grocery delivery website can also be reached by phone at 211.
The governor again urged Rhode Islanders to keep a log of all those they've been in contact with each day.  Raimondo said a new technology-driven tracing system was in the works, but in the meantime, the contact-tracing notebook residents keep at home will assist the Department  of Health in finding those that may have come into contact with an infected person.
Addressing the state's Jewish community on the first day of Passover, Raimondo acknowledged the difficulties social distancing would place on the traditional Seder meal. The ban of gatherings of five or more extended to religious celebrations, the governor said. She urged the faithful to find creative ways to worship together, including holding the Seder remotely, using apps like Skype or Zoom.
Passover is "a story of triumph and freedom over an enemy, a story that's more important now than ever," Raimondo said.
Raimondo said she was not willing yet to take the same steps Providence Mayor Jorge Elorza has in closing parks and recreation spaces entirely. Even as parking lots remain closed at state beaches and parks, Raimondo said residents can access them if they're within walking distance.
If evidence showed that residents were not respecting social distancing requirements, the governor said she would be open to more drastic action.
Alexander-Scott once again addressed the subject of race, which has been an increasing focus of reporters and activists in recent days. Data from some states has shown infection and deaths from the virus have afflicted African-Americans and Latinos at a higher rate, a point acknowledged by President Donald Trump in his briefing Tuesday.
Alexander-Scott said underlying conditions associated with poverty and inequality can effect the overall health of a community, leaving them more susceptible to a disease
"If people don't have access to fresh fruit and vegetables in their communities, that can lead to underlying conditions like diabetes," Alexander-Scott said, leaving them more prone to other illnesses such as the current pandemic.
©WLNE-TV/ABC 6 2020