Raimondo extends phase 3 until end of August, cuts social gathering limit from 25 to 15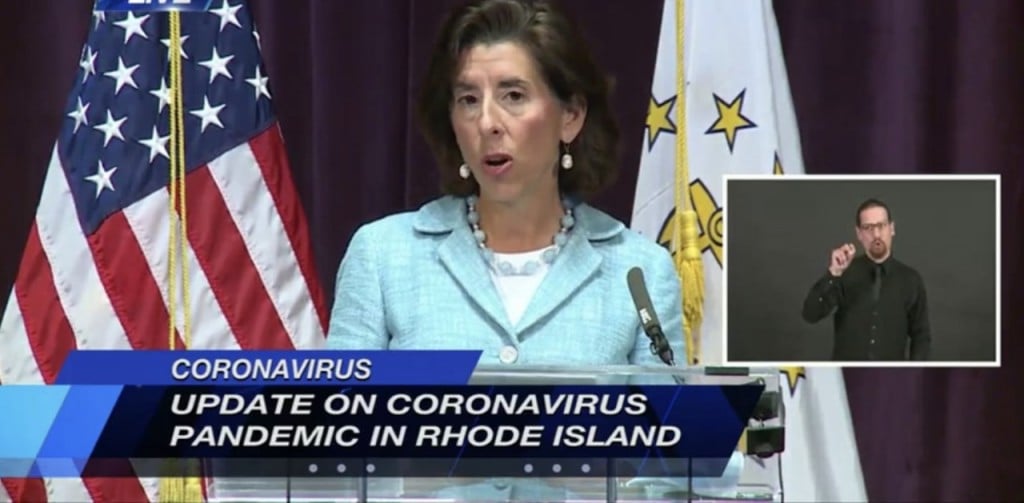 PROVIDENCE, RI (WLNE) – Gov. Gina Raimondo made the announcement Wednesday at her weekly COVID-19 press conference that she is extending reopening phase 3 through Aug. 28.
The governor's executive order for phase 3 was set to expire Wednesday.
In addition to the extension of phase 3, Gov. Raimondo is also cutting down the original capacity for social gatherings from 25 to 15 for the remainder of phase 3.
Gov. Gina Raimondo says infections have climbed recently due to social gatherings and a lack of "masking up" based on a review of 4,000 cases by RIDOH.
RIDOH has done a "deep dive" of looking through the contact tracing of the 4,000 positive cases to identify similarities. According to Raimondo, one trend is clear, there has been too much partying going on in Rhode Island.
"We're partying too much," Raimondo said. "Your right to have a party should not infringe on others right to live."
Rhode Island reported two more deaths and 61 new cases on Tuesday repeating an up-and-down pattern of new infections in the state. Rhode Island's death toll is at 1,007 from the virus with 18,800 cumulative positive cases.
The governor displayed once again the criteria she is using for deciding when to transition between the different reopening phases (See below). Raimondo said we're in "good shape" on three of the four metrics.
Hospitalizations have plateaued but the R value (labeled in red) is the reason for the pause of moving on to phase 4.
The R value is the number of people that one positive person infects. It currently stands between 1.3-1.4 and Raimondo wants that to be 1.1 or lower.
Raimondo also reported that the state will be cracking down more on the overcrowding in bars.
Over a third of the 100 establishments inspected last week were not up to par, according to the governor.
Starting Wednesday, the state will be publishing a list of restaurants not following the rules.
Just this week examiners issued notices to 10 restaurants and bars across Rhode Island for failing to comply with COVID-19 guidelines.
Raimondo said some establishments were so "egregious" that they had to tell bars to shut down immediately until they followed the rules.
On the topic of childcare centers, Raimondo said more than 8,000 Rhode Island kids are currently enrolled in child care with roughly 1,000 workers.
Since reopening childcare centers, there have been 12 cases among kids and 14 among staff, according to Raimondo. She added that the protocols put into place at the daycare centers have been working.
"We now have more than 75% of our childcare systems open," Raimondo said.
Rhode Island school kids will not go back to school if it's not safe for them to do so, Raimondo said.
However, she says the state should do everything it can to make sure it's safe enough for them to return.
"Of course they should be in school, but what's it going to take to make it so they can safely be in school?"
The governor said that these are the 5 areas that will be the state's focus within the next 5 weeks to make sure the state can say it's safe for children in each school district to return to school.
By Friday, the Rhode Island Department of Education (RIDE) will be posting all the reopening plans for every school district.
By Monday, RIDE will be posting additional guidance for all schools on health protocols to be followed upon returning to school.
During the week of Aug. 16, Raimondo says the state will recommend what level schools will reopen at (ex: fully online, hybrid learning, full in-person.)
This will be based on where the state's COVID-19 data trend illustrates that point, according to Raimondo.
On Wednesday, RIDE also launched back2schoolri.com.
RIDE says this new site will be dedicated to all things related to the safe reopening of schools in the fall.