Raimondo highlights technology in fight against COVID-19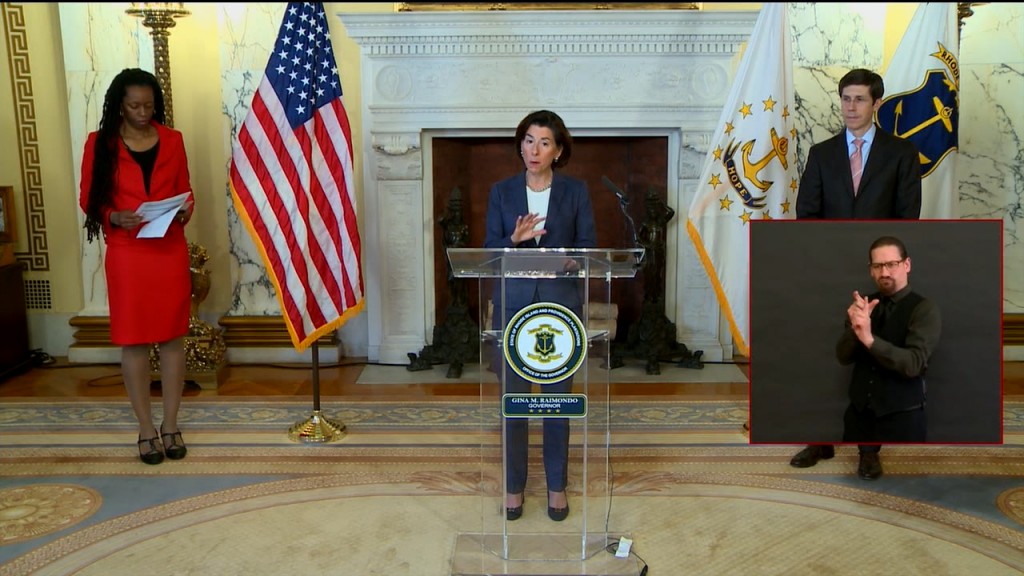 PROVIDENCE, R.I. (WLNE)- Governor Gina Raimondo highlighted new means to support effective quarantines, and also ways to keep loved ones in-touch while they are in isolation, during her afternoon briefing today.
Technology was a theme throughout the governor's address, as she also presented a new data chart that will provide updates at the start of those briefings. The chart will include figures on the latest number of fatalities, cases, and cumulative cases.
Rhode Island has seen seven new fatalities, bringing the total to 87 in the state. There were an additional 278 cases of COVID-19 in the state, bringing the cumulative total to 3,529.
Raimondo introduced several  initiatives to support effective quarantines and isolation, particularly for frontline healthcare workers and the homeless.
According to the governor, the Wyndham Hotel in Warwick has set aside 200 beds for the homeless and housing-insecure.
Raimondo introduced a new website, RIHavens.com, that will offer reduced rates at hotels for healthcare workers worried about spreading the virus among their family members. Rates will start at $25 a night, and include rooms in hotels across the state.
The governor was hopeful more options would be available in the near future, as she mentioned working with the state's colleges and universities to secure free access to dorms for healthcare workers.
A special mention was given to Rose Jones, director of the Office of Healthy Aging, who is spearheading a quarantine and isolation task force of nearly 60 individuals. Members come from diverse groups including the Office of Statewide Planning, the Department of Health, and the National Guard, among others.
Other initiatives to support those in quarantine include partnering with ride-share services such as Uber and Lyft for more options in delivering food. The meal-delivery service Meals on Wheels has also provided additional support, providing 3,200 meals to vulnerable residents across the state so far, Raimondo said.
An app is also in the works that will monitor symptoms and provide real-time tracking of those in quarantine, the governor said.
"The  fastest way to return to work and school is  identifying who is sick and quickly getting them into quarantine," Raimondo said.
Hoping to stem the spread of the virus in the state's nursing homes, the governor said testing workers would be a priority. She said 200 slots at the CVS Twin River test site would be put aside specifically for nursing home caregivers.
Another special mention was given to 19-year-old Kaya Suner, who has launched a project called Covid Connectors that provides patients in isolation with Iphones and other devices to help them stay in touch with family members.
The governor announced a donation of 540 tablets from Amazon to support the effort. More information about the project, including ways to donate unused devices, can be found on its website.
Turning to a question that had surfaced yesterday as to whether Rhode Island residents living close to the border of Massachusetts could shop for groceries in the neighboring state, Raimondo said that was not the important issue. Residents should shop at whatever location is most convenient, but they should "be smart about it."
"The less you leave your house, the safer we'll all be," Raimondo said.
©WLNE-TV/ABC 6 2020