Raimondo, McKee hold joint coronavirus briefing
"This is the beginning of the end for COVID."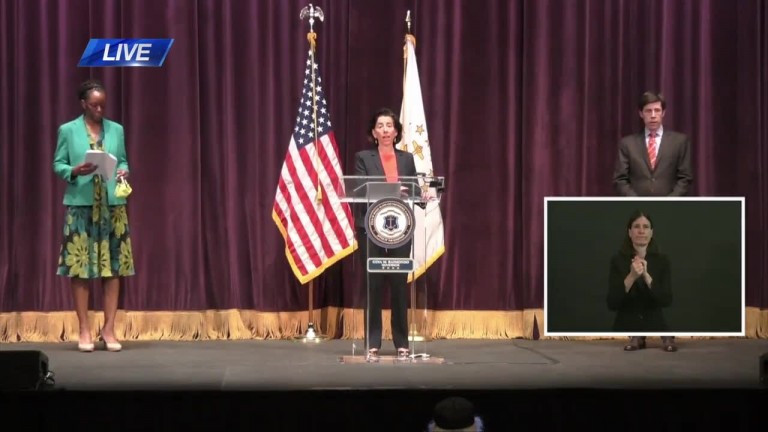 PROVIDENCE, R.I. (WLNE) – Governor Gina Raimondo and Lieutenant Governor Dan McKee held a joint coronavirus briefing on Wednesday.
Additionally, the briefing was Raimondo's first public appearance since her nomination into President-elect Joe Biden's cabinet.
The Governor said both her and McKee's teams are meeting on a daily basis, and McKee has agreed to keep the state's current COVID-19 response team in place.
Raimondo said this should give Rhode Islanders some comfort in the transition of power between the two.
Additionally, Raimondo noted that weekly coronavirus briefings will continue, along with daily email updates from the Governor's office. Dr. Nicole Alexander-Scott will hold briefings on the state's vaccination efforts ever week, along with an additional general COVID-19 update every Thursday.
"We've performed 2.2 million tests," Raimondo said on Wednesday, also noting that roughly 40,000 Rhode Islanders have been given at least one dose of the coronavirus vaccine.
"This is the beginning of the end for COVID," Raimondo continued.
The governor stated that she would be extending existing COVID-19 guidance through mid-February and also doubling testing capacity to 25,000 tests per day.
Raimondo said that she believes schools are the "safest places to be," and asked school districts like Pawtucket, to reconsider not allowing children back into schools.
Lt. Gov. Dan McKee addressed the state and assured Rhode Islanders that there will be no disruption in vaccine distribution, even after Raimondo heads to Washington D.C.
McKee said that his office and Raimondo's have been in contact over the years, and even more so since the beginning of the pandemic.
"We have the same goal, to build a strong future for Rhode Island," McKee told the state. He is set to answer questions from the media on Thursday at Chelo's.
The state administered 2,920 doses of the COVID-19 vaccine on Tuesday, according to Dr. Alexander-Scott. Most of the first doses arriving in the state will now be used for those living in assisted living facilities.
After her remarks, Raimondo left the briefing and did not comment to media outside.