Raimondo prevails in Democratic Primary with strong lead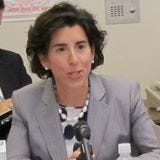 By: Dee DeQuattro
Email: ddequattro@abc6.com
Twitter:@deedequattro
After a heated race, General Treasurer Gina Raimondo prevailed over her opponents Clay Pell, Providence Mayor Angel Taveras, and Todd Giroux in the Democratic Primary. Raimondo held a comfortable lead over her opponents with 41% of the vote to Taveras's 29.2%, Pell's 26.9%, and Giroux's 1.8%.
Raimondo, who has served one term as General Treasurer of Rhode Island, is most known for her work with the Rhode Island pension overhaul plan.
The plan was passed into law by the Rhode Island General Assembly in 2011 but was quickly challenged in court by local unions. In 2013, it seemed that the state and the public sector unions and retirees had reached a deal however the settlement fell apart when one of the local unions refused to accept it. The matter is now being litigated.
Raimondo has been campaigning on her plans to bring jobs back to Rhode Island. Specifically she has highlighted her plans in the area of manufacturing. She has also highlighted improving infrastructure as part of her jobs plan and establishing the "Rhode Island Innovation Institute, a center that she says will work with local colleges and university on innovation.
Raimondo has also discussed a student loan forgiveness program for students who attend Rhode Island's public colleges and work in Rhode Island or start businesses in the state after graduation.
The General Treasurer pointed to her work with her venture capital firm Point Judith Capital as a real indication that she can create jobs in Rhode Island. She said the firm brought over 1,000 jobs to the state.
During the campaign Taveras criticized Raimondo for what he called her ties to Wall Street which she adamantly denied stressing the struggles of her own family while she was growing up ans her smart investment decisions as General Treasurer.
Raimondo will now face-off against the winner of the Republican Allan Fung in the General Election.
If elected Raimondo would be the first female governor of Rhode Island.
(C) WLNE-TV 2014