Raimondo rolls out part one of her jobs plan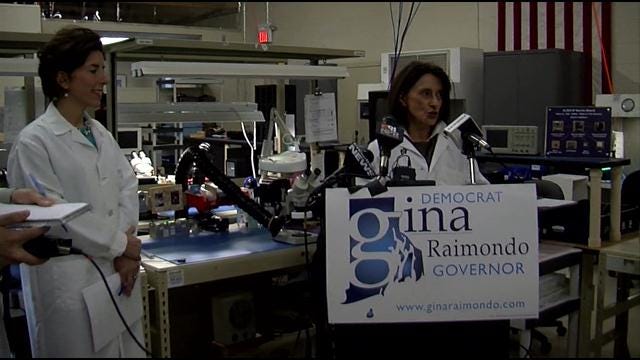 By: Dee DeQuattro
Twitter: deedequattro
Email: ddequattro@abc6.com
Democratic candidate for Governor Gina Raimondo rolled out the first part of her jobs plan Monday morning at Videology Imaging Solutions Inc., in Greenville. According to Raimondo this plan is just the first piece in her solution to tackle the state's high unemployment rate and struggling economy.
Raimondo's "Made in Rhode Island" jobs plan focuses on revitalizing the manufacturing industry in Rhode Island.
"Rhode Island has incredible resources. We have world-renowned research universities and untapped potential in promising new fields such as food sciences, marine technologies and health sciences – not to mention incredibly hard-working, industrious people," said Raimondo. "There is no reason why Rhode Island should continue to struggle with the highest unemployment in the entire country."
As part of the plan Raimondo will establish the Rhode Island Innovation Institute (RI II) to help college students pair up with businesses and the private sector in order to generate new ideas. The RI II would focus on industries in which Raimondo says Rhode Island is poised to excel including food sciences, marine industries, and health sciences.
Raimondo also said her plan will focus on workforce development. She will work to prepare Rhode Island students and the workforce in the skills they need to in order to excel in Rhode Island industries. One of her plans involves connecting the Community College of Rhode Island to businesses and manufacturers to help tailor curriculums and training programs to the type of skills necessary for Rhode Island jobs. In addition Raimondo is proposing a loan forgiveness program for students who work or start a business in Rhode Island.
Thirdly her plan will focus on manufacturers. Raimondo said she will establish a "Manufacturers Toolkit" to help local manufacturers grow their business by assisting with new research, branding efforts, and promotions.
(C) WLNE-TV 2014