Rain Causes Evacuation at Emerald Square Mall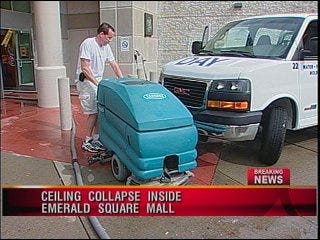 Officials evacuate shoppers as a rooftop drain collapses inside the Emerald Square Mall.
Our ABC6 cameras at the scene, the damage happening as a massive storm rolled through Attleboro just after 3 this afternoon.
The fire chief says a 12-inch pipe linked to drains on the roof of the mall broke, sending a gusher of water into all three floors of the "Lane Bryant" store.
No one was injured, but for a time half of the mall was closed, over concerns the water could come in contact with electrical panels, and pose the danger of electrocution.
The mall called in clean-up and restoration crews to mop up all the water and get businesses back open.
The management of the mall did not allow cameras inside to take pictures of the damage.