Rain ending as showers late tonight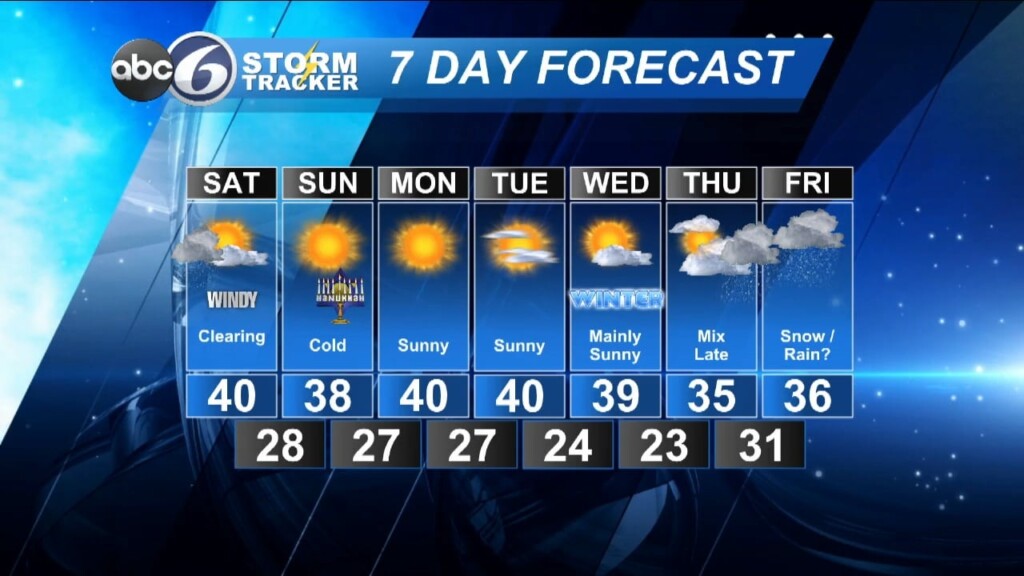 The heaviest rainfall and strongest wind gusts have moved past the region now. Rain continues tonight a low pressure area moves through Cape Cod and slowly pulls away into the Gulf of Maine. As the storm begins lifting though the Cape early Saturday morning winds shift into the northwest to aid in drying us out and we'll see developing sunshine for the afternoon. High pressure builds in on Sunday with full sunshine and dry weather. This stays with us through mid-week. The next storm system will push in Thursday and Friday. At this point, it could be rain or snow for southern New England, its just waaaay too soon to have a good idea on how this will take shape. Stay tuned!\
Tonight: Steady rain tapering to showers late and for some areas from Providence northward there may be a brief change to wet snow showers, but nothing that would accumulate as lows only slip back to near 38. NE winds become NW at 15-25 mph.
Saturday:  Partial clearing with afternoon sunshine. High near 42. Windy WNW 15-25 mph.
Sunday: Sunny and cold. Highs near in the upper 30s.
Monday through Wednesday: Sunshine and seasonably cold. Morning Lows in the mid 20s, Highs hovering around 40.
ABC6 meteorologist, Bill Gile