Rain in the morning changing to snow for the afternoon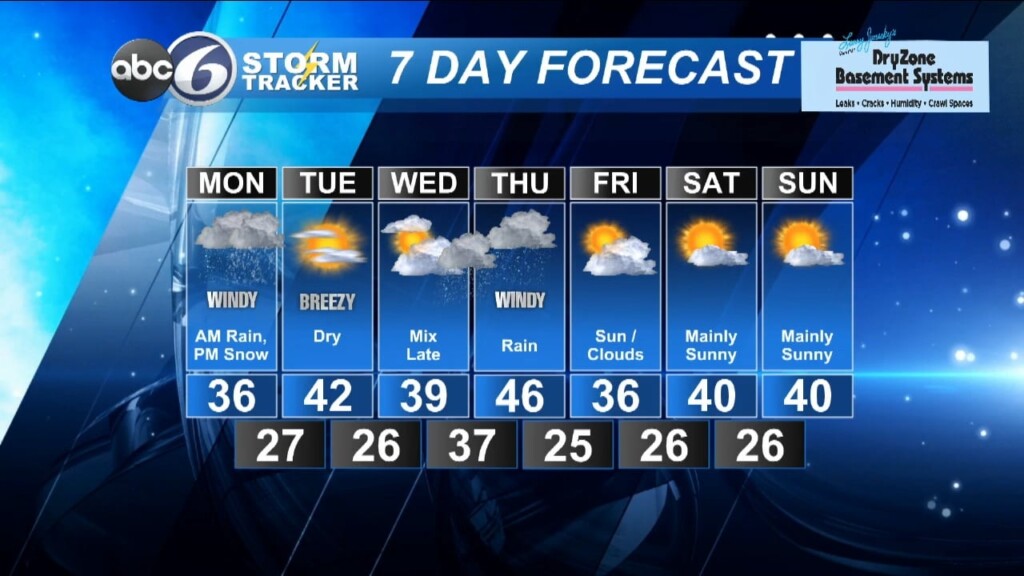 A developing coastal storm is bringing rain tonight that will become heavy at times as winds begin to increase. Temperatures will remain in the mid and upper 30s. As the storm center moves over Nantucket by midday tomorrow the rain will change to wet snow and winds will be rather strong from the NW at 15-25MPH . Temperatures should be just above freezing 33 or 34° until nightfall Monday so most accumulations that occur will tend to be on grassy surfaces. However, any bursts of moderate snow (1 inch per hour rates) that develop at times will be enough to cause roads to become slushy and snow covered. As we go into the evening hours the snow will be quickly coming to an end, pretty much by 8PM. We'll also need to keep an eye on the tidal situation for Monday morning as well for any possible splash over, but the good news is that the storm center will have passed so tidal effects will likely be minimized.
Snow totals will generally be a 1 to 2 inches throughout RI with some 3-4 inch amounts in the northwestern hills. Any wet untreated roads Monday night will become icy as temperatures fall back into the 20s.
The sun returns for Tuesday and part of Wednesday before the next storms arrive late Wednesday starting as either snow or rain/snow mix that becomes all rain overnight and continues into Thursday.
TONIGHT: rain, heavy at times. temperatures holding steady around 33-36 central/north and 37-42 south.
MONDAY: rain in the morning will change to wet snow for the afternoon and end early evening. Temperatures slipping back between 32-34° during the afternoon. NW winds gusting 15-25MPH.
TUESDAY: sunshine with a few clouds. Highs in the low 40s.
WEDNESDAY: clouding up by midday with snow or rain/snow mix developing late PM. Highs in the upper 30s.
THURSDAY: rain and wind. Highs in the mid 40s.
ABC6 Meteorologist Bill Gile