Rally held at state house after Gov. Raimondo cancels football, volleyball for fall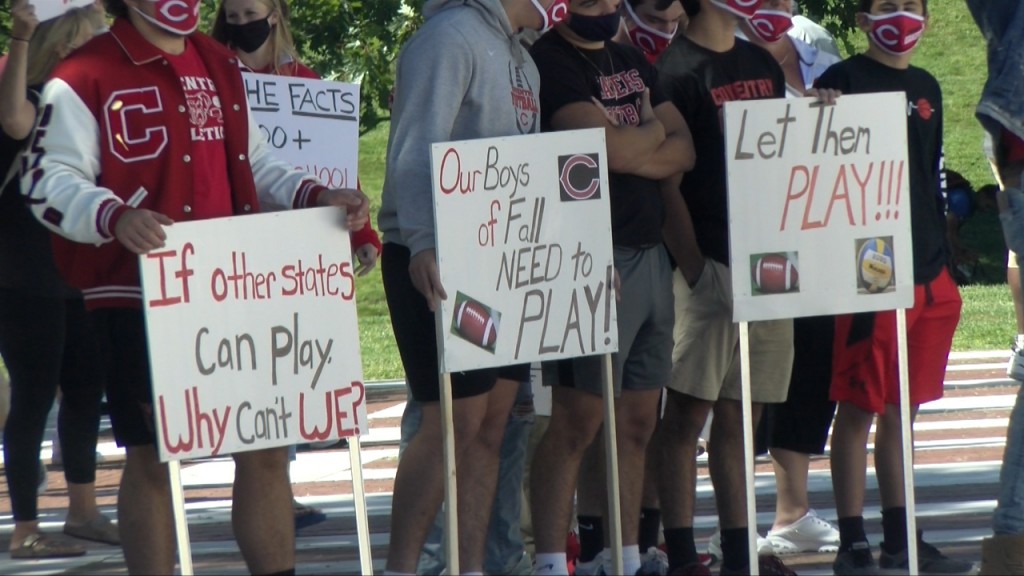 PROVIDENCE, R.I (WLNE) – A crowd of sports fans rallied on the statehouse steps, after high school football and volleyball were cancelled for the fall, on Saturday.
More than 150 players, parents, and coaches showed up to the event and called for Gov. Raimondo to reverse her decision to move the football and volleyball seasons to February.
"There's no reason in a state that has such a low infection rate that we not be able to play," Kris McCall, head football coach for Classical High School, said.
McCall pointed to the fact that volleyball and football teams were training, during the height of the pandemic, without incident.
"All the high school sports were participating in some type of workout all summer. We never had any report of any infection happening," McCall said.
He said punting the season to winter was not going to feel like a win for the players.
"You take on the island, Aquidneck Island, the wind and the temperature coming off the island, it's just not even feasible," McCall said.
Still, players who came to the rally, told ABC 6 News they would keep warming up whether the season was in the fall or winter.
"Just gotta keep practicing and training until we do eventually get a season, so I can be the best I can be," Todd Schofield, who plays for Exeter-West Greenwich Senior High School, said.
ABC 6 News was told by organizers that future rallies would be planned at the state house, if Gov. Raimondo did not change the football and volleyball seasons back to fall for this school year.
©WLNE-TV/ABC6 2020