Rally in support of President Trump takes to State House steps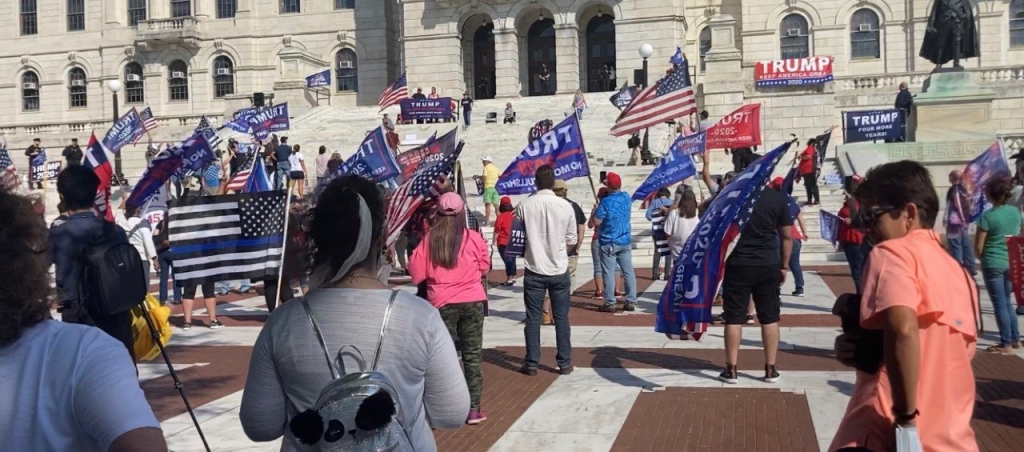 PROVIDENCE, R.I. (WLNE) – A rally in support of President Donald Trump took place outside of the State House Saturday morning.
Hundreds of people gathered on the State House lawn to show their support for the President.  Supporters came with signs, banners, costumes, and chants calling for "Four More Years" and to "Fill the Seat".
Brandon Nicolelli who attended the rally told ABC6, "It feels good. You know, I got somebody over here, I mean we got a bunch of cars coming down the street that are waving their flags, beeping at us, you know, it's just heartwarming to know that there are other people out here that are supporting us."
During the rally, a group of people gathered on the sidewalk in opposition of the supporters, holding "Black Lives Matter" flags.  Police officers placed themselves in between supporters and protestors, in effort to keep the event peaceful.
This comes after a third night of protests in Providence took place, where dozens marched through the streets of the city to rally against a Kentucky grand jury's decision not to charge the officers involved in Breonna Taylor's death.
©WLNE-TV/ABC6 2020