Ralph Mollis makes run for Lt. Governor official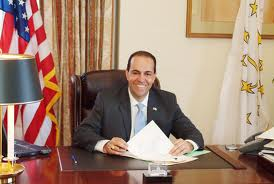 Dee DeQuattro
Twitter: @deedequattro
Secretary of State Ralph Mollis announced he will run for Lt. Governor.
Mollis said his top priority as Lt. Governor will be economic development and job creation.
"We know that one of the most important issues facing this state comes down to one word – jobs," said Mollis. "The future of our state depends on developing an economic environment where we are able to retain the amazing talent that is coming out of our fine colleges and universities. These young people are our greatest assets, and we need to make sure that they have careers right here in Rhode Island."
As Lt. Governor Mollis said he will create and chair the Lt. Governor's Workforce and Development Task Force which would be comprised of business leaders, education leaders, and local philanthropists. The board would work to develop policies and legislation at growing the economy.
Mollis also said he supports having the Lt. Governor and Governor run on the same ticket and as Lt. Governor he will support giving Rhode Islanders the choice on the issue. 25 other states have the Governor and Lt. Governor elected on the same ticket.
Prior to be elected as Secretary of State in 2007, Mollis served as Mayor of North Providence for nine years.
Mollis will take on Cumberland Mayor Dan McKee in a Democratic Primary for the office. McKee said he welcomes Mollis to the primary but believes that the state is looking for new leaders.
"Rhode Islanders deserve a better deal than they are getting now. They deserve better schools, safer streets, and more economic opportunities than they're being offered today. And as I've talked to voters from across this state, one thing is clear: they are looking for new leaders in Providence to make that happen. They want fresh ideas from a new generation of state officials," said McKee.
(C) WLNE-TV 2014