Rams EC Mathews A-10 Co-Rookie of the Year, Martin and Biruta Also Honored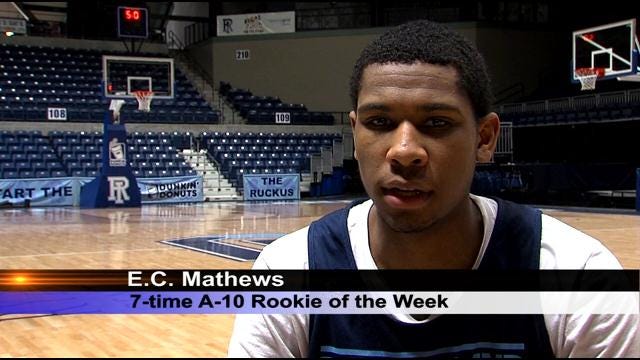 URI news release…
KINGSTON, R.I. — E.C. Matthews has been named Atlantic 10 Co-Rookie of the Year and joins fellow freshman Hassan Martin on the league's All-Rookie team, it was announced today after a vote of the conference's 13 head coaches.
Matthews averaged 14.4 points, 4.4 rebounds, and 2.4 assists per game. The Detroit native is one of just three freshmen nationally to average at least 14.0 points, 4.0 rebounds, and 2.0 assists. He ranked second in the A-10 among freshmen in scoring and third in rebounding and assists.
On March 10, he became one of just six players in Atlantic 10 history to earn seven A-10 Rookie of the Week awards. He received the honor five out of the last six weeks, as his teammate Martin was tabbed as the league's top rookie the week of March 3.
Since January, the 6-5 guard has posted nine games with 20 or more points – most among all freshmen nationally. In conference games only, Matthews averaged 16.6 points per game – eighth overall in the A-10 and 10th nationally among all frosh.
Matthews is the first Rhode Island player to be named Atlantic 10 Rookie of the Year since the 1998-99 season, when Lamar Odom was voted as the league's top newcomer. He joins Ram alums Antonio Reynolds-Dean (1995-96), Kenny Green (1986-87), and John Evans (1985-86), who was named co-Rookie of the Year along with Darryl Prue of West Virginia. DeAndre Bembry of Saint Joseph's shares the award with Matthews this year.
Hassan Martin was also recognized as one of the Atlantic 10's best freshmen as a member of the league's All-Rookie team. The 6-7 forward led the Atlantic 10 in blocked shots, swatting 75 shots en route to setting a new URI freshman record, and was tops among A-10 freshman with four double-doubles on the season.
After entering the Rams' starting lineup on Jan. 7 in the A-10 opener against Saint Louis, Martin became one of the most consistent post players in the Atlantic 10, averaging 8.8 points, 7.1 rebounds, and 2.9 blocked shots over the 16-game conference slate.
He is the only player in the A-10 – and one of just two freshman nationally – to average at least 8.0 points, 7.0 rebounds, 2.5 blocks and shoot better than 58.0% from the floor during conference play. In 31 games in the overall regular season, Martin averaged 6.3 points, 5.3 rebounds, 2.4 blocks and shot 53.7% from the field. Martin was named A-10 Rookie of the Week on March 3.
It marks the first time in Rhode Island history that two players were named to the A-10's All-Rookie team. Matthews and Martin are the first duo from the same team to earn spots on the All-Rookie team in the same year since 2008-09 (Ahmad Nivins/Garrett Williamson, SJU).
Gilvydas Biruta was named to the Atlantic 10's All-Academic team. To be nominated, a player must be a starter or important reserve and have a cumulative 3.0 GPA or better (on a 4.0 scale) for his entire academic career.
A public relations major, the junior has compiled a 3.48 grade-point average. This past semester, Biruta was named to URI's Dean's List and in January, he was selected to the Capital One Academic All-District I team for his efforts in the classroom. Biruta finished his the regular season ranking third on the Rams in scoring (10.6 ppg), first in rebounding (7.0 rpg), and third in field goal percentage (50.0%). He was a two-time member of the Big East All-Academic team in his first two collegiate seasons at Rutgers.